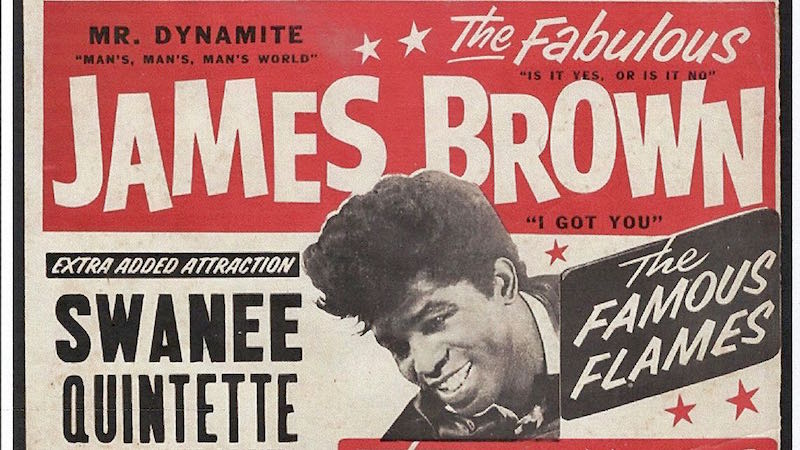 With three documentaries from Academy Award-winning director Alex Gibney showing at the 2015 Sydney Film Festival, I packed plenty of popcorn and set out on a three-day bender that transported me from the mythic tale of galactic overlord Xenu in Going Clear: Scientology and the Prison of Belief to the soul of James Brown in Mr Dynamite: The Rise of James Brown, and then on to another cult, Apple, with Steve Jobs: Man in the Machine.
Gibney's documentary about the meteoric ascension of James Brown is worth its ticket price alone for its archival footage—some of it never aired before—of "Mr. Dynamite" in concert. Brown's feet tear up the floor, almost threatening to spark a fire, as he hurtles his way through "I Got You (I Feel Good)," before collapsing to the floor, overcome by exhaustion, only to leap up again and continue belting his lungs out with another smash-hit song.
Talking-head interviews with Brown's band members, tour manager and the musicians he inspired weave a narrative around footage of Brown in concert. We meet the original "Funky Drummer" Clyde Stubblefield—who actually detests that song— bandleader and composer Alfred "Pee Wee" Ellis, and saxophonist superstar Maceo Parker, who was largely responsible for the signature horn sound of Brown.
And then there's the eccentric "cape man" Danny Ray, who would not appear out of place in a David Lynch film, speaking against a backdrop of red curtains. Doubling as the emcee, Ray was responsible for draping a cape over the seemingly exhausted Brown, despite his protestations, which plays out like an absurdly comic spectacle.
For Brown, soul music came from a resistance to the word "can't". Gibney documents how the musician's career was clearly built in opposition to this word, successfully defying class structures and racial oppression to transform himself from an impoverished shoe shiner in Georgia into a self-made millionaire.
Gibney also locates Brown's music within the context of the civil rights movement, demonstrating how Brown eased the threat of violence on the night of Martin Luther King's assassination in Boston, and helped instill empowerment within the black community with his tune, "Say It Loud, I'm Black and I'm Proud".
But like any good documentarian, Gibney teases out the unpleasant complexities of Brown's career, questioning his endorsement of Nixon, highlighting his tyrannical leadership of his band members, and exposing his violent tendencies towards women.
With Brown's music continuing to inspire legions of devotees within the hip hop and rap community—Kanye West cites Brown as his greatest influence— the life and legacy of "Mr Dynamite" is just as timely than ever.
4 stars