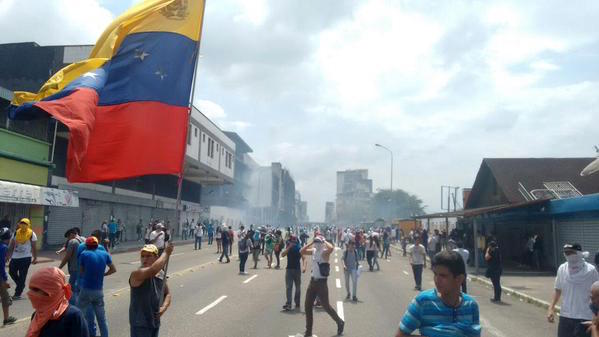 A 14-year-old boy was shot in the head in Venezuela during a government crackdown of student protests this week commemorating last year's student rebellion.
In February 2014, thousands of students protested against corruption, media censorship, lack of security and oppression, resulting in more than 60 people dead and hundreds injured.
On the anniversary, anticipating what could be a new outbreak of street protests against his government, Venezuela's president Nicolas Maduro gave the green light to use of firearms.
Venezuelan Ministry of Defence´s resolution "008610", published in the Official Gazette in January 27, 2015, enabled the "use of potentially lethal force, along with the firearm or other potentially deadly weapons" as a last resort to "avoid disorders, support lawfully constituted authority and reject any aggression, facing it immediately with the necessary means".
The resolution, signed by Commander-in-chief Vladimir Padrino López, does not distinguish between peaceful and violent demonstrations, other than to briefly define deadly violence as the "creation of a life-threatening situation".
This provision has already claimed its first victim: 14-year-old Kluivert Roa who was shot dead in the head during the police crackdown on an opposition protest in Táchira.
On Tuesday morning in San Cristobal an officer from the Bolivarian National Police (PNB) killed high school student Roa in front of dozens of protesters. Witnesses told of how a group of officers dragged and shot the teenager who was hiding under a car.
He was transferred to the Central Hospital of San Cristobal where he died hours later.
Outrage over his death has spread beyond the Tachira community to the rest of the country.
Minister of the Interior, Justice and Peace, Carmen Melendez, confirmed via Twitter the detention of a person responsible for the death of young Kluivert Roa. "We condemn the killing of Kluivert Roa in Tachira state. We will be relentless in the implementation of justice and the law, "said the minister.
Governor of Tachira, José Vielma Mora, mourned the death of Roa and described the event as "an isolated incident".
"We deeply regret the death of young Kluivert Roa Núñez in an isolated incident that we forcefully condemn," the governor wrote on his Twitter account.
The situation remains tense, especially now that several opposition leaders, including metropolitan mayor of Caracas Antonio Ledezma, have been indicted for alleged conspiracy to generate violence.