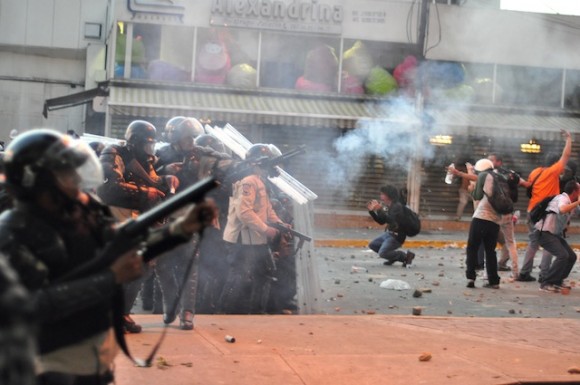 Thousands of students are on the streets yelling and holding banners that scream "Censura es dictadura" (censorship is dictatorship), "Prefiero morir de pie que morir de rodillas" (I'd rather die standing on my feet than live on my knees) "Si los medios callan que hable la calle" (Since the media is silent, the street will speak up).
Twitter is ablaze with protest. It wasn't long before "SOS Venezuela" began trending on twitter.
Amid the confusion, traditional media is completely absent.
But the massive street protests, mostly by Venezuelan students, led the international news in February 2014. On February 12, the day in Venezuela dawned with a march and ended with repression and death.
The students were raising their voices against the corruption, censorship, insecurity and oppression that have taken over the country in the last 15 years under Chavez's political model of socialism for the 21st Century.
Radio and television chose to ignore these events. Venezuelans were never less informed by traditional media than during these student anti-government protests that resulted in more than 60 people dead and hundreds injured.
Freedom of information in Venezuela has been classified as "difficult". Reporters Without Borders has ranked Venezuela 116 out of 180 countries in the 2014 World Press Freedom Index.
Former Governor of Miranda state and current member of the National Assembly, Enrique Mendoza, claims the government has taken control of media to manipulate and censor any anti-government opinion.
According to Mendoza, the country's major television and radio stations either maintain a biased editorial line that is uncritical of the government, or are directly under its control. "The idea is to create absolute control," Mendoza says.
According to Mendoza, the international media showed the world what was happening in the country: "This was a threat to the government."
Venezuelan President Nicolas Maduro expelled the Colombian information channel NTN24 and Spanish CNN for their coverage of the protests, accusing them of being part of a conspiracy to destabilise "peace" in the country.
Ana Vanessa Herrera, current journalist for NTN24 Venezuela, describes this measure as an act of cowardice. "We are committed to keep informing the population about what is happening regardless of the price we have to pay," Herrera says.
NTN24 Venezuela is currently operating through its website and twitter account that have now been blocked several times.
The Venezuelan government maintains that the international media is trying to discredit them. "Just so you know (…) I will defend the peace in Venezuela and nobody will come from abroad to try to disrupt it," President Maduro said during a Cadena (a presidential address that all stations are obligated to air).
It argues that Venezuela is a democratic country,  based on the idea that people are able to vote. But Mendoza says democracy cannot just be measured by the people's right to vote.
But there is an increasing tendency to control information which has intensified with the direct censoring of reporters. In addition to arrests and assaults, national government spokesmen have refused access to many journalists.
"There is no press freedom in Venezuela,"Herrera says, adding that many doors have closed for journalists that openly oppose the government. "We are facing and intellectual threat."
Recently, renowned journalist Nitus Perez Osuna had her radio show taken off air and cancelled for its high anti-government content.
Mendoza sees these actions as a part of "a well-woven mesh by the government" and explains how the government pushes the station to do its will. If the station does not "obey", it faces a series of sanctions including fines and threats. He says the idea is to strangle them economically so the owners are forced to sell . "Other stations do not have any other choice than to engage in self-censorship," he concludes.
Newspapers have also been affected by economic measures. The print media does not have access to the funds they need for buying paper because the government has implemented a currency exchange control, that has resulted in the reduction of print editions to mere newsletters.
Many young people especially have taken refuge in social media and Twitter has become the major information channel among the population.Venezuelans have been using Twitter to post updates and pictures of what is happening. But Twitter has not totally escaped the government's censorious hand, with Twitter users also temporarily blocked from viewing or uploading anti-government content.
Censorship is dictatorship; everyone has the fundamental human right to dissent, and the public has the right to know and to evaluate information autonomously.
The future of the media in Venezuela is uncertain. Venezuela has sunk into a deep silence, but there are those who are willing to pay the price to inform in a country where informing seems to be a felony. These people will continue fighting for what they love: a country that has been gagged.