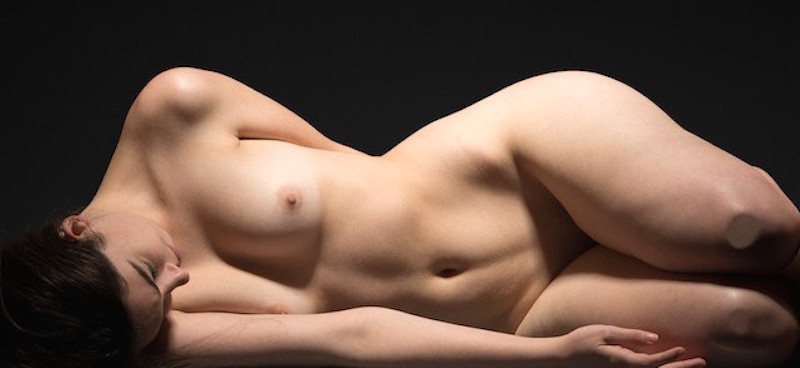 Artist Laura Moore was first attracted to photography as a way of collecting evidence and proof. The medium she both loves and intensely scrutinises was a way of certifying her own existence. A decade on and she's decided that photography can't replace reality or stand in for experience but that it can be very powerful, fascinating and deceptive.
"I love photography. I may not think of photography as evidence anymore but I'm still using it to try and find some kind of truth," she says.
This search forms the basis of her upcoming exhibition, Framed, opening at the Manuka Arts Centre in Canberra on Thursday March 26. The work featured examines the nature of photography itself, experimenting with the capacity of the photographic portrait to represent complex meanings about identity.
For Moore the focus has been on examining what the medium is capable of, and the illusion that it holds.
"I find it weird when people talk about photographic portraits. They have this idea that it's real, that it really delivers the subject of the work to the audience," she says
"I don't think it's any more real than a painting. There's a lot of ethical questions that need to be asked about the photographic portrait."
Moore explains that as a former news photographer she's had to photograph a lot of people, sometimes people who didn't want to have their photograph taken.
"That made me realise that there's an inequality, an exploitative side to the photographic portrait.
"I'm always privileging my own perspective, my point of view, and how I see them. You might take 50 photos and you'll pick one. It's your own interpretation of someone, not theirs, but I think we forget about that with photographs.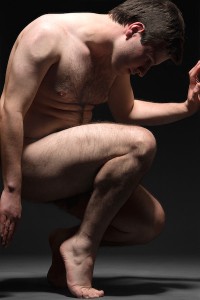 "People still have this perception about photography that it's real. There's so many different things that come into play when you're taking a photo: the camera, the lens, direction, how you expose it; it's anything but objective."
The 27-year-old artist's answer to this ethical dilemma was to construct a physical space that exposed the normally hidden exploitative element in the relationship between artist and subject.
"Because I work with portraiture so much I have become hyper aware of this inequality, this exploitative nature. I'm not trying to offer any answers with this work but I am trying to raise the right questions and highlight some of the ethical issues involved in photographic portraiture.
"In considering how to approach that, I decided to exaggerate it, to make it really obvious."
Moore built glass cubicles in varying sizes then asked artists to pose for the portraits with the glass cubicle as the physical incarnation of the final image.
"I asked them to pose nude inside the cubicle. The final image is the life-size print of that constructed space, holding and confining the exposed subject," she explains.
"The subject was completely aware of what the final image would be and they could control how much of themselves they wanted to display and how they chose to interact with the space.
"In that way I was trying to have a more equal relationship between subject and photographer but at the same time I was asking them to be nude which is a really confronting thing to do. And it's not exactly a beautiful way of doing it because they're squished into these boxes, and trying to conform to this pre-set photographic space."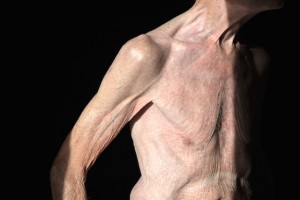 Moore approached many artists but only 15 agreed to participate. The exhibition also includes one self-portrait, the smallest work at 60cm x 40cm.
"I only asked other artists and photographers that I know, so people who work with this idea of representation in the gallery space – sculptors and painters, people who understand what is going to happen and what it means. I asked a lot of people and a lot said no. "
These portraits also display the difficulty of the negotiation between the subject and the constructed photographic space. Through printing the portraits life-size, the subject can be viewed as near to life as possible and the viewer is confronted with a life-sized body.
"At a time when we casually consume more images than ever before, this series uses exaggeration and amplification to pose ethical questions about the creation and consumption of photographic portraiture. It asks us to recognise the voyeuristic desires and scrutinising gaze that the photographic portrait invites."
Moore has many successes to her name, chief among them the iD Digital Portraiture Award for 2012.
Her winning entry depicted Moore in school uniform in a one-minute video animation from her evocative series Hereinbefore that reveals her crying in an unsettling image of childhood.
Asked why she has chosen photographic portraiture as her artistic medium Moore hesitates.
"Maybe the reason is because I'm trying to work out why I'm drawn to it. I find people fascinating."
Such direct investigation of the capacity of the photographic portrait is also a prominent theme in the works of Louise Baker (That Jumping Guy) and Yiorgo Yiannopoulos (Love Shack), two fellow artists sharing the exhibition space.
The exhibitions open on March 26 and are on view until April 26 at Photo Access at the Huw Davies Gallery, Manuka Arts Centre, Canberra, ACT. Artist talks will be held on March 28.
To view more of Laura Moore's work visit her website .