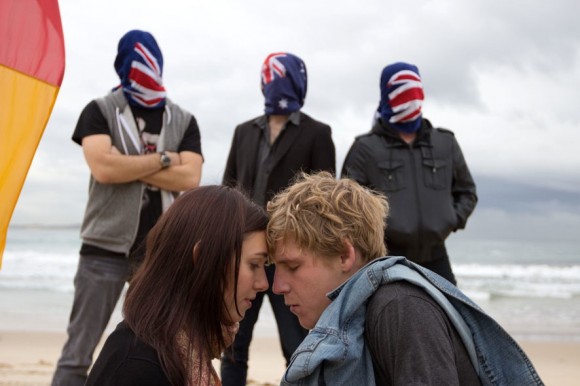 One family is a well-to-do southern suburbs family, the other an immigrant family from Sydney's west. Older, cooler heads – and police commissioner Prince – try vainly to turn back the tide of hatred, passion and bloodshed.
 A beach party crashed, insults exchanged, knives, fists… and an unlikely romance. It's love across the divide… a clash of cultures with a tragic result.
Impulse Theatre is putting on Romeo & Juliet as you've never seen it before: forget the Montagues and the Capulets of old Verona and think instead of the 2005 Cronulla riots when Caucasian and Lebanese Australians were caught up in a cultural struggle that quickly became violent.
The show's director Stephen Wallace said he had always been fascinated by the Cronulla riots.
"Especially by the way that they used the Australian flag, and more by the ways that the Australians behaved than the Lebanese," he said.
Reflecting on his own experiences doing school shows, Wallace said the incident still resonated within the Islamic community.
"We have a lot of Islamic kids, and girls in hijabs come in and I've been talking to them about it. I know that it is still a big issue," he said. "For the teachers, especially out west, there hasn't been much done on the riots. It just sort of happened and it's just been forgotten but it's all still seething away there. I thought maybe we could do this; maybe this could help."
Wallace says he's just trying to make the issues clearer, "so it might be more relevant to people: relevant to Australia. That was the idea".
The first dilemma was to work out how to deal with the subject through what is essentially a love story.
"We found out through our research that a lot of Islamic girls fall in love with Anglo boys. And a lot of them marry them," he said.
"But nobody talks about that much. And they stay Islamic and the boys stay Christian, or whatever, but nobody talks about it. I don't think Islamic parents really want it, but they don't stop it.
"It's a bit looser than people think it is. He falls in love with her, she falls in love with him. The families aren't as strict here as everyone thinks they are."
Wallace did a lot of research and spoke with many people before adopting this approach. He asked members of the Islamic community what they thought, and the response was: '"Go ahead, do it! Put them in a hijab".
"So we're actually doing that. I thought it was a bit bloody dangerous. I said, 'we'll have a jihad on us!' And they said, 'No you won't, this is not about religion, this is about culture'."
Wallace said he was initially concerned about a possible negative response to the play.
"I just didn't want any demonstrations outside the theatre and I don't think that's going to happen," he said. "But I thought when I was watching it, this is really interesting, because here are these girls dancing and carrying on like everyone else, and we don't get that image of Islamic people."
He said the prevailing image of the Islamic community is of "a very sombre, strict people who put jihads on people and attack girls on the beach who are wearing skimpy clothes". But looked at more closely he said this view was based on a "complete misconception" and the reality is nothing like that.
One father he spoke to told him his daughters only wore hijabs to school and were not pressured to wear them anywhere else.
"He wants it to come from their heart. A lot of girls don't actually wear the hijabs until they get older. They have to understand what the meaning of it is."
Wallace hopes the play will increase understanding of Islamic culture and that audiences will take away the message that these walls between adults create walls between the children.
"It's a cultural wall which means nothing. This [conflict] in Cronulla is about nothing. All this violence and stuff – it's about nothing."
But, he does wonder why those barriers exist and why people behaved as they did during the riots.
"The Australians felt threatened; the Lebanese felt threatened. But nobody was really threatened and nobody really understood the other. That's when tragedies happen: people could have been killed in Cronulla."
In Shakespeare's Romeo & Juliet the conflict between the warring families kills their children. The responsibility for Romeo and Juliet's deaths, as well as the other deaths in the play, rests squarely on both parties. Or as Mercutio puts it: "a plague on both your houses."
"Nobody stopped what was happening. Everybody saw it, and nobody stopped it. It all forced Juliet and Romeo into making tough decisions. There was no tolerance. Without tolerance, tragedies happen. You've got to be tolerant. And you don't have tolerance without understanding."
The play's young cast is headed by Dan Webber and Rainee Lyleson in the title roles as well as Lyelson's own mother Lisa Peers as the Nurse, Byron Hajduczok as Mercutio and Rob Baird as Benvolio. Also Alex Bryant-Smith as Tybalt, Adam Hatzimanolis as Capulet, Aimee Moffatt-Foster as Lady Capulet, Martin Searles as Friar Lawrence and Montague, Jace Pickard as Paris and Alan Faulkner as The Prince. Design is by Alan Walpole with costumes by Tanya Woodland.
Romeo & Juliet opens on Wednesday July 31 and plays until August 24 at the King Street Theatre, Newtown.