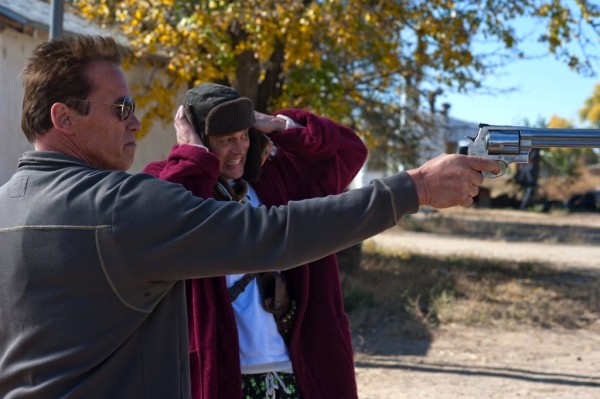 Any cinemagoer from the 1980s would know what to expect from action legends and bad-asses like Arnold Schwarzenegger, Sylvester Stallone, and Jean-Claude Van Damme.
We expect no mentally draining mind-twisting plots and no revoltingly scary fountains of blood— ahem, Mr Nolan and Mr Tarantino.
All we expect are great chunks of action where the good guy beats the living daylights out of the bad guy, and lives to deliver a tongue-in-cheek comment at the end.
Straight. Simple. Smashing. And director  Kim Ji-woon delivers.
Arnold Schwarzenegger's first lead role in ages is not only entertaining but yet again proves that 'old-school' action still rocks.
And yes, as Arnold in this movie again says, he is indeed welcomed "back"!
Schwarzenegger stars in The Last Stand as Ray Owens, a small town sheriff whose "day off" is ruined by dangerous drug lord Gabriel Cortez (Eduardo Noriega), who very smartly escapes from the clutches of the FBI in a juiced- up Chevrolet Corvette C6 ZR1.
The FBI team includes Forest Whitaker in a well-acted cameo as team-leader.
Predictably, the only thing standing between Gabriel Cortez and his well-planned freedom is Ray Owen's inexperienced small town Sheriff Department's team.
This predictability works in the film's favour. From the outset we know what's coming and we get satisfaction from having our expectations met: big guys muscling it out; sexy girls; numerous rounds of fire-power; wry, sarcastic humour; a perfect dose of graphic violence; and a beast of a modified sports car.
What follows is sheer fun. Exciting car chases, gun fights, a school bus doing 'donuts' and the last action sequence of the bare-knuckled fight between the Sheriff and the drug lord on a lonely bridge.
The film also includes funny men Johnny Knoxville and Luiz Guzman in entertaining cameo roles.
The Last Stand's motto seems to be 'cracking bones and justice prevails'. Highly recommended for action fans.