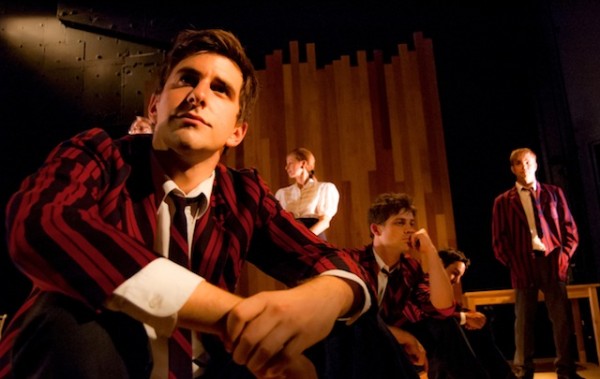 If you like literary allusions, poetry, pop culture and word play you will enjoy Alan Bennett's The History Boys, which opened at the Sydney Opera House on February 12.
This erudite comedy has a large smattering of Auden, plenty of laughs and a very energetic cast going for it. There's also a few songs, including an Edith Piaf number and a great version of "Bewitched, Bothered and Bewildered".
What threads together the witty phrases, quotes, songs and sexual musings is the clash of ideas about the role of education.
Veteran actor John Wood plays Hector, an unorthodox teacher who believes education is worth it for its own sake. He encourages the boys to absorb literature and appreciate it as part of their lives.
But the eight boys at this grammar school in the north of England are gearing up for entrance exams into the prestigious Oxford and Cambridge universities and love of learning alone won't do the trick.
Enter Irwin (James Mackay) hired by the stuffy headmaster (Paul Goddard) to give the boys some polish and increase their chances of entry into these revered halls.
His approach is utilitarian, and a little like infotainment: as he sees it, the trick is to shock or entertain the markers to stand out from the accurate but dull mass of essays.  In many ways the play draws parallels between education and journalism, which is referred to rather dismissively.
Finally there's Mrs Lintott (Heather Mitchell), the compassionate but sharp-witted history teacher, and only female in the cast. She provides a touch of feminism in a rampantly male environment as she tries valiantly, with little success, to remind the students that there is another way of looking at the world; that maybe a woman might be on the selection panel.
There's no obvious winner in the end, although Irwin's methods do produce results.
Another thread that runs through this play is the role of chance, especially interesting in the context of history but also for its impact on human lives.
And then there's sex.
The cast is very competent:  Mackay and Wood are excellent as they compete for the boys' minds and loyalties, and Mitchell is a lively counterpoint to the male cast. Matthew Backer is convincing as the love-smitten Posner and Gary Brun has his moments as the sporty Rudge.
But among the students, Lindsay Farris steals the spotlight as Dakin, the brash and sexually confident boy who is the target of Hector's, Posner's and Irwin's not-so-secret affections. He plays the role with humour and lots of cheek.
Jesse Peach, founder and artistic director of the Peach Theatre Company, directs this high-energy production and sustains interest despite the heavy emphasis on the admittedly beautiful language, and occasional lulls where the action drags. Peach directed The History Boys in Auckland four years ago.
The History Boys is at the Playhouse, Sydney Opera House, until March 12.  Bookings: 9250 7777 or sydneyoperahouse.com