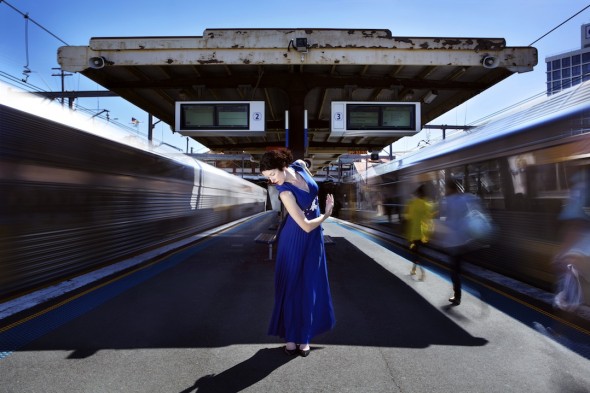 This work is an eclectic showcase of 12 solo performances by some of the best dancers from the independent dance sector in Australia.
Slow Dances for Fast Times opened at the Carriageworks on March 6. As always when visiting Carriageworks I was impressed and grateful for the foresight and planning that has provided Sydney with a venue where contemporary ideas and issues can be explored using local and international artists from a range of cultures and communities.
Slow Dances embodies this spirit of exploration and diversity. It is described as the dance equivalent of a concept album and comprises 12 intimate and unique solo performances.  Each of the performers comes from a distinctively different cultural and artistic background and is of varying ages and physicalities.
Martin Del Amo choreographed and directed the work and aptly describes the 12 solos as unique choreographic portraits. The dances are short theatrical vignettes and push the boundaries of what is generally thought of as contemporary dance. There is humour, drama and irreverence in the works and often an incongruity that implies defiance and a desire to break free of the expected.
A classic dance recital setting is created by decorating a generous stage with lavish red velvet curtains, a chequerboard floor and mirror ball lights. Del Amo says that this is in order to  "create an intimate moment of exchange between audiences and the dancer".
"It's a play on traditional conventions of dance and asks audiences to question if those expectations can be shifted," he explains.
The music can only be described as eclectic, and ranges from a 1960s soul track by Dusty Springfield to a 1970s rock anthem by Jimmy Hendrix. ABBA gets a mention as do Blondie and Jeff Buckley.  Portishead, a Spanish torch song and a track composed by Mozart are thrown into the mix. The 12 solos culminate in a group performance to Anthony Callea's The Prayer, dubbed the extra track.
This is a very interesting program and a must for anyone into the alternative dance movement.
Choreographer Martin del Amo
Dancers Julie-Anne Long, Jane McKernan, Elizabeth Ryan, Raghav Handa, Vicki Van Hout, James Welsby, Sara Black, Jade Dewi Tyas Tunggal, Benjamin Hancock and Sean Marcs
Event Details:
6-9 March 2013, 8pm
Carriageworks, 245 Wilson Street Eveleigh, Sydney Tickets $35. Bookings.