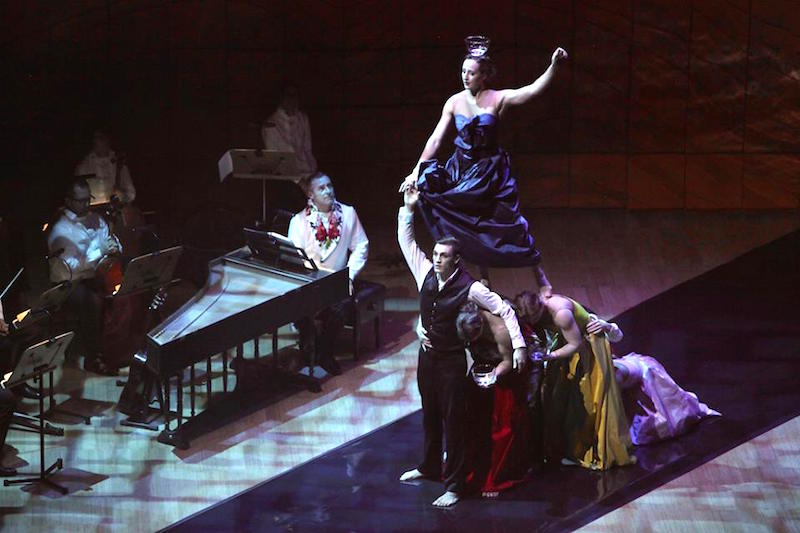 It is very rare to see a classical music audience lose its traditional polite composure overcome with the spectacle of a remarkable performance.
But that is exactly what has been happening during the Australian Brandenburg Orchestra season of French Baroque with Circa today giving its last performance at the City Recital Hall.
In this perfect marriage of audio and visual artistry, the genius of Paul Dyer, the artistic director of the Australian Brandenburg Orchestra, joins with the vision of Yaron Lifschitz, artistic director of the outstanding acrobatic troupe Circa to create an innovative and truly spectacular celebration of French Baroque.
The performance transports the audience effortlessly back in time to the reign of Louis XIV in the 17th century. It is from this vantage point that we are enticed to savour in the sumptuous and theatrical entertainment that the French nobility participated in whilst attending court at Louis's opulent Palace of Versailles.
Three times a week Versailles provided an evening's entertainment in the form of the most impressive music and entertainment available at the time: in this concert, we the audience are given the opportunity to experience this unique bird's eye view and enjoy the evocative sights and sounds of privileged elaborate courtly life with all our senses fully engaged.
The first half of the concert opens with a dynamic performance from the Brandenburg Orchestra presenting the works of Rameau, Le Camus and Lully highlighting French soprano Claire Lefilliâtre, Paul Dyer on harpsichord and guest concertmaster Shaun Lee-Chen from the West Australian Symphony Orchestra.
In the second half we are introduced to Circa and the carefully crafted and blended 'Pasticcio' that consists of musical pieces by several different composers.
The concert hall's performance space comes alive as we witness extraordinary choreography and seemingly impossible feats of physical strength as Circa's acrobats contort rhythmically, incredibly and perfectly in tune with the orchestra.
French soprano Claire Lefilliâtre is now amidst the lively circus pageant blended with three choristers from the Brandenburg Choir bestowing the most extraordinarily exquisite harmonies so exemplary of French Baroque.
It is at this point that the performance becomes a masterpiece as the superb musicians, singers and acrobatic performers wow the audience who fail to restrain their enthusiastic applause as per classical music's customary etiquette.
In fact it's almost impossible to capture all the mastery on stage as turning your attention to one performer means neglecting something else equally captivating that is occurring simultaneously.
I loved it. This is a definite must see.
Today's matinee perfomance at 2pm is sold out but tickets are still available for the 7pm show at the City Recital Hall, Angel Place. Book on the Australian Brandenburg Orchestra website.
Rameau Ouverture to Naïs
Le Camus Laissez durer la nuit
Rameau Suite from Les Indes Galantes
A pasticcio created by Paul Dyer
featuring Marais, Lully, Tessier, Boesset and more
Claire Lefilliâtre (France) soprano