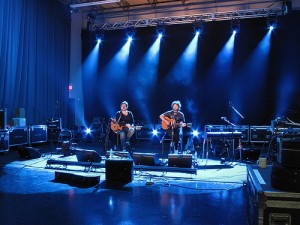 Full disclosure: I am a die-hard fan of Flight of the Conchords, New Zealand's 'fourth most popular folk-parody duo', and was positively squealing with excitement at the prospect of seeing them perform live at the Sydney Opera House.
The sold-out opening show of their Australian tour was no disappointment, bringing Bret and Jemaine's hilarious musical-comedy stylings to the stage.
The thumping bass line of Too Many Dicks (On the Dancefloor) opened the show, accompanied by a dizzying lights display and a cameo from Arj Barker.
Clad in gaudy silver suits and tin-foil wrapped boxes on their heads, the boys then transported us to "the distant future, the year 2000", in their rendition of Robots.
Bret and Jemaine have serious music chops, singing, serenading, rapping and rocking the Concert Hall. Jemaine even choked back tears, wailing his way through the woeful tale of rejection in I'm Not Crying ("I'm not crying, it's just been raining… on my face").
Anecdotes of the band's rock star "antics on the road" are interwoven between songs. As Bret explains with glee, he once received a complementary muffin at a hotel.  The muffin didn't flatter him with praise, but was free of charge. Rock on.
Spectacular costume changes see the boys strip down to spangly Ziggy Stardust suits in a David Bowie parody and don billowing capes and scarves in the cock-rock bravado extravaganza, Demon Woman.
While legendary songs like Hiphopopotamus vs. Rhymenoceros and I Told You I Was Freaky are absent from the set list, we are treated to Jemaine's extended version of Business Time, and offered a tantalising taste of the insanely catchy new Conchords tune, F*** On the Ceiling.
No one grinds their hips and shapes their booties like Bret and Jemaine, confirmed by the side-splittingly funny finale of Sugalumps.
The Flight of the Conchords live show was a flippin' amazing experience, and I pray that our beloved Kiwi cousins visit Australia more often.
Flight of the Conchords
Sydney Opera House, 5 July 2012