Honorary Aussie, Carl Cox, was a man on a mission when he brought his renowned style to Perth before heading North for the summer festival season. This gig not only showcased Cox and his music, but it also gave Perth a taste of things to come.
The Red Hill Auditorium, a modern amphitheatre in the hills overlooking Perth, was a beautiful setting to kick off his perpetual summer. Riding shotgun on warm up duties was Danish-born melodic techno specialist Kölsch (AKA Rune RK of the original 'Calabria' fame), with support from UK house legend Eric Powell.
We arrived to the sounds of Eric Powell serving up some afternoon house to a crowd more than ready to go. Already at about 30 per cent capacity, the dance floor was firing early.
As the sun set the crowd grew rapidly and it was clear there were a lot of early starters – UFC fight 196 with Conor McGregor the probable cause – with plenty of revellers well primed to get moving.
With the stars coming out, the horizon glowed bright orange around the silhouette of Perth city as Kölsch took control of the decks. He continued the smooth and transient soundscape that Powell had painted, featuring tracks from his own back catalogue, his music sophisticated and elegant, eventually building a heavier foundation for some edgier techno.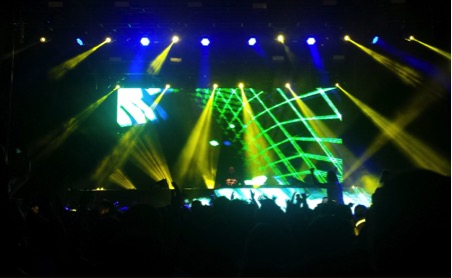 His sound is much like the local specialty beer of the same name, brewed in Cologne (Köln), Germany: it's clear and bright, has a prominent but not extreme 'hoppiness', and is less bitter than standard German techno.
It was approaching 9pm and the party people were restless, crews trying to regroup, hunting for lost members and vantage points to witness the gentle giant in action. Coxy took the stage to cheers and whistles as the crowd let him know why they were there. "How we doing Perth?" his infectious grin beaming among the wall of lights, and we were away.
I've seen Carl Cox play several times over the years, the most memorable appearance at an underground party in Perth. He was rocking three decks, never missing a beat and the energy levels were on 'sustain' the entire set. I was interested to see how it went down this time round, and I have to say, he's still got it.
Engaging the crowd and busting moves behind the digital decks, it looked as though Cox was having a ball, never swaying too far from queuing up the next mix. Riding the EQ with his trademark bass cuts he kept the vibe alive and the three-hour set literally flew past.
No track was left to play out too long as Cox kept the set interesting, moving between beats and flavours as if driving through a shopping aisle of techno styles selecting one from each shelf. The icing on the cake was the return of some old skool vibes with a sample from Blame's classic "Music Takes You" singing out loud and clear, and classic house samples and piano breakdowns giving punters goosebumps while driving them to emotive highs.
Cox adhered to the strict midnight curfew and left the crowd with hands in the air and on the lookout for an after party. "Thank you Perth. I'll be back. Very soon!"
Cox's next project to bring a global flavour to Australia on a regular basis is very welcome after the demise of the Big Day Out and Future Music, and quality lacking from the tired format of large scale travelling festivals.
Here's hoping that experience will be like the side shows Cox prefers, with a more intimate experience of like-minded people And here's hoping he brings it to Perth.