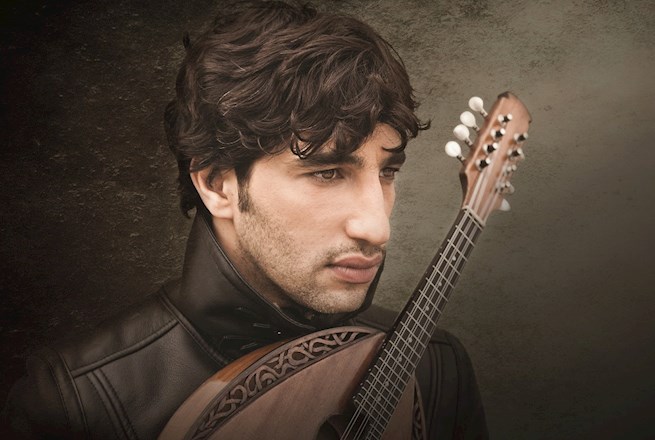 It's always breathtaking to witness someone immersed in their passion and the performance by Avi Avital was surprisingly sensational.
The attainment of one's Opus is no mean feat as it takes courage, innovation, dedication and an all-encompassing desire. Grammy-nominated mandolinist Avi Avital exhibits all these qualities and more and it is not surprising that the Artistic Director of the Australian Brandenburg Orchestra Paul Dyer has brought him back to Australia to play again with the ABO by popular demand.
Avi Avital is an immensely attractive and charismatic Israeli mandolinist and composer, well known for his adventurous and interpretive adaptations of celebrated Baroque and folk music, most of which was originally written for the strings. The mandolin, belonging to the lute family, was often incorporated into arrangements by several of the classical composers including Mozart, Beethoven, Mahler and Stravinsky. The mandolin's tuning is the same as the violin and any music composed for the solo violin can be interchangeable with the mandolin.
It is evident Avi Avital is a man with a mission and boldly seeks to revive the mandolin's rich legacy by commissioning many exciting new mandolin performances.
The concert commenced with Vivaldi's Concerto for Strings in C major, RV 110 performed by several of the acclaimed Australian Brandenburg Orchestra including Paul Dyer AO on harpsichord, Avi joining the ABO onstage for Vivaldi's highly expressive Concerto for Violin in A Minor, RV 356, from L'estro Armonico (harmonic inspiration) arranged for the mandolin by Avital. This was followed by the second arrangement without Avi, Valentini's Concerto Grosso In A Minor, Op. 7, No. 11, an exciting Australian premiere that Dyer came across in Italy describing it " a rare jewel".
Avital then returned to the stage to play Sulkhan Tsintsadze's (1925-1991) Six Miniatures on Georgian Folk Themes for Mandolin and Strings. Instantly we were transported musically to the crossroads of Europe and Asia, to Georgia, a country blessed with a rich cultural inheritance surrounded by Turkey, Armenia, Azerbaijan, Russia and the Black Sea.
We were also prompted to soak in the decorous atmosphere created by exotic hanging lanterns in the Concert Hall and the Moroccan lounge room theme, acknowledging Avitals' original Moroccan heritage before his Jewish family emigrated to Israel in the '60s. Regardless of Avi's excellent accomplishment as a classical mandolinist when he played Tsintsadze's compositions he truly revealed his core as he fervently performed rhythmic, soulful and arresting melodies from the Shepherd's Dance, Suliko's love-song, Indi-Mindi, Lied, Sachidao and Dance Tune.
Interval was followed by Avital's delicate performance of Vivaldi's Mandolin Concerto in C major, RV 425 and then Giovanni Paisiello's romantic piece from the Classical Period Mandolin Concerto in E-Flat Major. Then another of Avital's unique and exquisite arrangements of Vivaldi's Concerto in G minor, RV 315, the 'Summer' from The Four Seasons. Finally, the pièce de résistance, a solo encore, a traditional Bulgarian folk dance tune known as Bucimis from Avital's CD 'Between Worlds'.
This finale required spectacular agility and had us all breathless with the intensity of Avital's frantic plucking which led to a standing ovation and lengthy applause.
This was a stunning concert and Avi Avital is undoubtedly a talented virtuoso.
AUSTRALIAN BRANDENBURG ORCHESTRA
AVI AVITAL mandolin
PAUL DYER artistic director and conductor
Sydney City Recital Hall: 26, 28, 29, Oct, 2, 4 Nov 4 at 7pm
Melbourne Recital Centre: Nov 5 at 7pm, Nov 6 at 5pm
Brisbane – Queensland Performing Arts Centre (QPAC): Nov 8 at 7:30pm