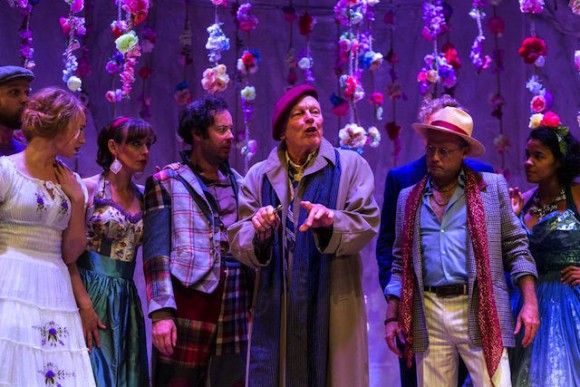 Bell Shakespeare's production of As You Like It is a pleasant lighthearted jaunt through an Arcadian world of love, deception and hidden identities.
This fanciful tale begins with court intrigue as younger son Orlando (Charlie Gaber) confronts older brother Oliver (Dorje Swallow) about his birthright after the death of their father. Oliver has a sinister plan to rid himself of his troublesome brother at a wrestling match but this villainy does not go to plan.
Not only does Orlando win the match against his more experienced foe but he also meets the beautiful and sharp-witted Rosalind (Zahra Newman) and the two immediately fall in love.
But Orlando flees the city after faithful family servant Adam, played superbly by Tony Taylor, warns him of his brother's treachery.
Meanwhile, Rosalind is suddenly charged with treachery by her uncle the duke who exiles her from the court under threat of death. She runs off accompanied by the duke's own daughter Celia (Kelly Paterniti) her cousin and best friend.
As fate would have it, all their paths cross in the Forest of Arden where all sorts of love tangles are resolved and unexpected transformations lead to a cacophony of more or less happy endings.
In this pastoral world we meet love in all its guises from the slightly sleazy lust of Touchstone (Gareth Davies) for Audrey (Abi Tucker) and Phebe's (Emily Eskell) ultimate haughty and reluctant acceptance of simple shepherd Sylvius (George Banders) to the astonishingly rapid and accurate Cupid's arrows that later also hit Celia and Oliver.
Bell Shakespeare artistic director Peter Evans guides a capable cast headed by Zahra Newman who dominates the stage in most of her scenes thanks to boundless energy and vivacity. However, it is John Bell who captivates with his confident and engaging performances – first as the rather camp Le Beau and later even more impressively as the very melancholy Jaques. His "All the world's a stage" speech is one of the play's highlights.
Kate Aubrey-Dunn's colourful costume designs evoke Commedia Dell'Arte (there's a gorgeous Harlequin costume), and both the 1950s and 1960s (Celia's dress and hairdo).
The stage itself is bare save for a ladder and a floral ceiling that drops to a cascade of floral vines when we enter the Forest of Arden.
The musical interludes of Kelly Ryall's arrangements of Shakespeare's songs, sung by Abi Tucker, add a modern touch to this fanciful production.
This is a playful, colourful and entertaining play. See it at the Playhouse, Sydney Opera House until March 28.  Canberra, April 7 to 18, Melbourne April 23 to May 10. Visit Bell Shakespeare website for details.