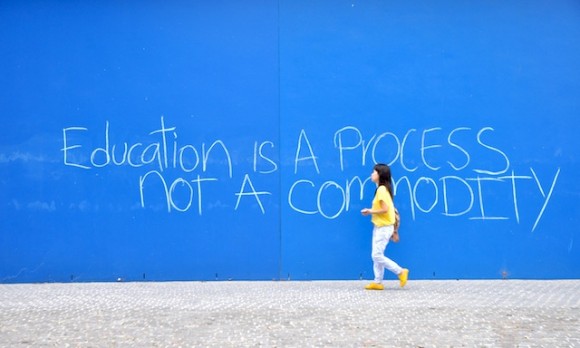 Protesting staff and students, wrapped in mcintoshes and clasping umbrellas, manned the entrances to Sydney University today. They were a smaller cohort than last time and outnumbered by people crossing the picket line but clashes with police made the evening news.
Grant Wheeler, branch president of the Community and Public Sector Union (CPSU), said their members had hoped the university would have avoided the action planned for today by taking steps to negotiate more constructively.
"The union was willing to stop the action but the university wouldn't enter into dialogue," he said.
"The CPSU is made up of library staff, grounds staff, tech staff, and we've sacrificed four days of work to try and stop the growing fixed term employment which neither offers job security nor builds institutional knowledge."
He said these were dangerous days and more strike action was planned for June 5.
This is not the first time protesters have imposed a picket line, nor the first time there have been clashes with police. Australia's oldest university was under siege for two days in March as angry staff manned picket lines at all entrances to the campus.
With the National Tertiary Education Union (NTEU), Community & Public Sector Union (CPSU) and students at their side, university staff protested against management's erosion of tenure and casualisation of the workforce on March 26 and 27.
At the time, Wheeler, who has worked in the Sydney University library for 20 years, said the action would get the university to listen to their objections to the university's move to a future of insecure employment.
"I am concerned that institutional knowledge is not being built," he said.
"They are turning this place into a degree factory and the appointment of Belinda Hutchinson, current Chair of QBE, as Chancellor points to their multi-national corporate approach. Management needs to work in co-operation with all staff, and we are trying to make them listen."
During that protest police were called after strike supporters stormed a lecture in the Chemistry building.  Wheeler said then that picket lines should be about education, not intimidation.
"The intention is not to force people not to cross picket lines but to persuade people not to cross them but students will be students."
After the last protest, Andrew Potter, Sydney University's director of corporate media relations, said that the university did not support the action and regretted that it had happened.
"The university always intended to be open for business as usual and was never going to stand by and do nothing just because picket lines had been installed," he said.
Mr Potter said that according to university records fewer than 600 of the 7000 staff participated in March strike action.
One of the main issues remains the level of casual appointments at the university.
Mr Potter said the appointment of casual academic staff was on the decline, from 24.7 per cent in 2001 to 19.9 per cent in 2012 and was well below the quota agreed to in the current enterprise agreement set years ago. He said there were no plans to increase it.
The appointment of casual administration and professional staff was also in decline from 14.9 per cent in 2001 to 14.5 per cent in 2012, he added.
Mr Potter denied that the University intended to restrict the right of unions to be on campus.
"It is a question of rent and to date the unions have had free office space, free use of university facilities as well as their salaries being subsidised," Mr Potter said.
"The university wants to see changes implemented that would be in line with everybody else who uses the university."