It's one of those perfect autumn mornings in Bondi. The air is crisp and clean; the sun is still low in the sky without a cloud for company. A fresh breeze blows in off the ocean. Surfers dot the wave break and walkers tread the soft sand up and down the shoreline.
Like any early weekday morning, there is a lull. It's the time when a few early bird café-goers sit out on the street, sipping coffees and flicking through the paper. The kerbs are deserted without the yoga-mad locals and tourists who descend on weekends. Car spaces are ripe for the picking. It's too tempting. A car pulls into an empty space and a well-heeled eastern suburbs local ducks into a nearby café. Five minutes is all it takes. Soy chai, $101 slapped on the windscreen; day ruined.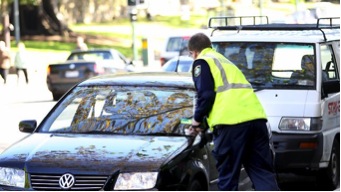 It's a tale as old as time. Local governments are criticised for their 'addiction' to the income collected from parking enforcement. And on a quiet weekday it's not hard to see why. Motorists beware: like high vis-caped crusaders, parking wardens stalk the streets with pen and paper at the ready. In this past year Waverley Council rangers alone handed out almost 80,000 parking tickets. You'd be forgiven for thinking they're hiding in bushes.
Max Siano, long-established retailer and 22-year member of the Bondi Chamber of Commerce, said parking was a treasure trove for council. He isn't someone to take lightly: with a voice like a foghorn and the personality to match, Max is a vocal campaigner against parking schemes he sees as being "un-Australian".
"Just last week I was booked in the one-way street behind my shop after ten minutes," he said. This doesn't seem unusual for any street at Bondi Junction by all accounts – but when it's because Council has switched the street signs to 'no parking' without explanation, Max says something's not right. "It makes me furious. It's a business-killer and it's definitely revenue-raising."
New parking meters along Queen Elizabeth Parade in Bondi have only added to the minefield. Locals have thrown up their hands in disbelief: how many more meters does a suburb need? "Seek, find and fine," Max Siano said. "People pop in their money and along comes the ranger to check. Too bad if you're a minute late; they'll know."
But a Waverley Council spokesperson said parking rangers could only issue a ticket if a parked car had breached the rules. The meters are simply a matter of "good parking management" to deal with Bondi's notoriously hectic peak-season. Max, however, sees it differently. "Look at any street without meters," he said. "Nine times out of ten there'll be buoyant shops and cafes. Why do you think that it?"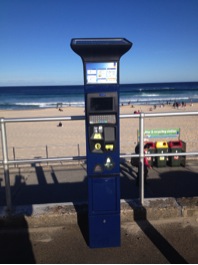 If you thought Bondi was bad, motorists looking for a better deal in the city have it no easier. In a race to the pot of gold at the end of the car-lined rainbow, City of Sydney is top of the podium. Figures show that in 2013 alone they collected a cool $29.7 million from parking infringements, leaving Waverley Council's $8.9million in their dust.
Like Waverley, City of Sydney maintains it has no reliance on the back of parking revenue. A spokesperson is quick to remind us that not all of this ends up in Town Hall's pocket. More than one third of the revenue collected from parking notices goes to the NSW Government, but that still leaves the City with a nice nest egg for their coffers. When asked about the fines, they cannily push the blame upwards: fine levels "basically rise with inflation and are set by the NSW Government."
Pulling at this loose thread doesn't reveal much. Roads and Maritime Services would not provide a comment when asked how the costs were allocated to each fine level, but their detailed four-page list of parking offences is a rollicking read. Some seem hilarious: stopping near a post box will set you back $101; not parking at a 135-degree angle will also cost $101. It conjures up images of wardens with protractors.
Others are just baffling: display something that resembles a ticket on your dashboard and you'll be penalised $506; but drive through a red light and you'll cop a slightly less painful $405.
The State Debt Recovery Office's Guide to fine processing and enforcement system tells us these fines are "designed to influence behaviour by ensuring individuals take responsibility when they break the law". But critics point out that if fines are supposed to deter people from using their cars revenue from parking notices should be decreasing.
Taking a microscope to data produced by the Office of State Revenue shows a slight drop in the past two years for the two highest earners – City of Sydney and Waverley Council – but their income has basically stayed level since 2003. For Max Siano, this is just more evidence that parking is still the golden goose for local government. "The community is definitely being ripped off," he said.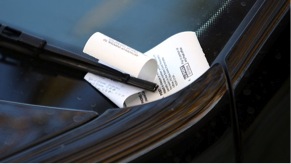 To further muddy the waters, since 1992 the NSW Government has imposed a tax on car spaces in major commercial centres like Sydney CBD and Bondi Junction and it's been steadily on the rise. It doubled in 2009 under Labor, and has increased to now sit at $2,210 per space. Between 2012 and 2013 the levy raised $99 million for the NSW Government. And this is on top of the already staggering amount they collect from local councils for parking enforcement. When probed further, the standardly vague response from Transport for NSW is this: the object of this act is "to discourage car use by putting a levy on parking spaces" and "encourage the use of public transport" to reduce congestion. It seems like a straightforward formula. The more you pay, the less you drive, and the happier we all are.
But for many, this is just another instance of motorists being manipulated by the powers that be. Bondi locals have long complained that waiting for a bus from Bondi Junction is a bit like choosing an avocado; one elderly resident even called it the "phantom bus". A representative from Waverley Council agreed that people "would be more likely to leave their car at home if they had a transport system to meet demand".
So we're back at the beginning. People continue to use their cars; people continue to be penalised. It's the wheel that keeps on turning: the more fines given out, the more money collected, the more reason to keep those parking wardens prowling. It looks like pulling the brakes may be harder than we think.