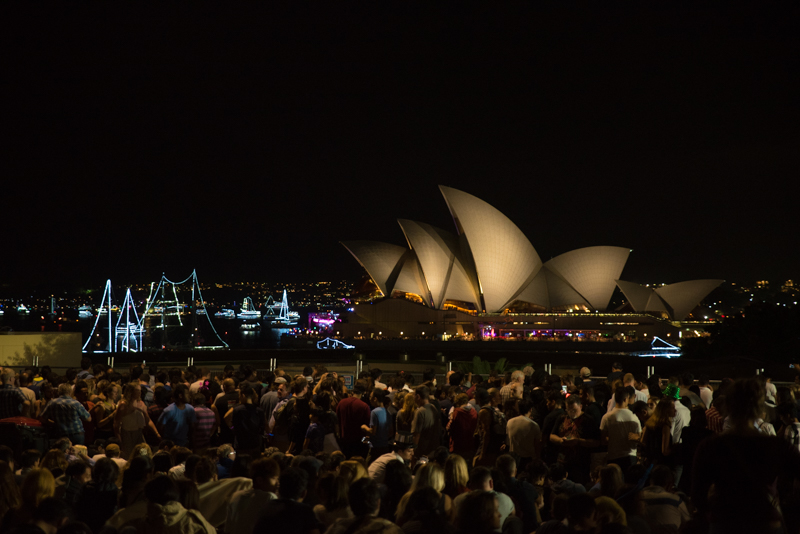 New Year's Eve on Sydney Harbour has become a landmark event watched by people all over the world, not only because Australia is one of the first to welcome in the new year but also because of the city's spectacular fireworks display.
This year somehow managed to outdo itself with an estimated 1.5 million people crowded around the many vantage points to enjoy the 9pm and midnight  fireworks extravaganza.
About seven tonnes of fireworks, including 12,000 shells, 25,000 shooting comets and 100,000 individual pyrotechnic effects at a cost of $7 million, were used to produce an awesome display that had the crowds gasping with delight.
Missing this year was the traditional symbol displayed on the Sydney harbour Bridge but in its place was an overarching tribute to the many music legends who died in 2016 including David Bowie, Prince and Leonard Cohen.
An example of this theme was the purple rain showering the harbour and lighting up the bridge and a constellation of space-inspired pyrotechnics.
But again the fireworks centred on the bridge were among the most popular, especially the spectacular golden waterfall.
Among the thousands of tourists in Sydney to enjoy the spectacle and chronicle the crowded countdown to midnight in the harbour city was Sydney-born Oliver Findlay who now lives in Melbourne.
The young photographer captured the crowd mood throughout the evening as he roamed around the harbour looking for the best vantage point.
His photographic journey is displayed in the gallery below.