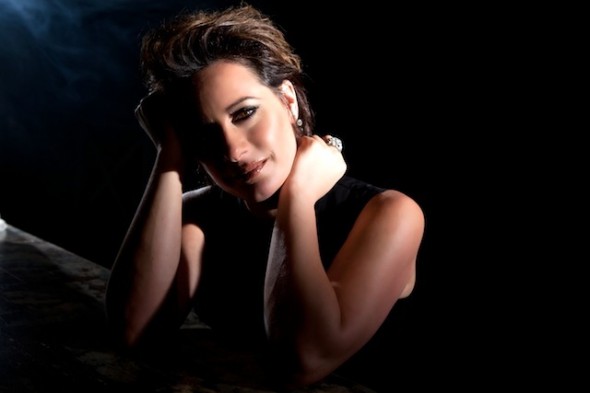 "There are only two kinds of people in this world," Nina Ferro tells me. "There are men and there are women."
Taking to the stage alongside her exceptional band at Sydney's 505 on Monday 13 January, songstress Nina Ferro launched her soulful new album Into the Light.
Written in Nashville – 16 songs in 16 days which were then whittled down to 13 and recorded on days 17 and 18 – the album is a wonderfully listenable collection of tunes with country pulsing through its veins and soul at its very heart. Lyrically, Ferro sings "goodbye to the ghosts and fears" and moves "out of the darkness and into the light". "Turn to Stone" is beautifully-felt and affecting, while striking soul number "Cry Cry Cry" feels like an emotional release of sorts.
Described by Tony Bennett – who she supported in 2001 – as "a fabulous performer with a knockout voice", Ferro's vocal ability is truly masterful. The Melbourne-born singer was operatically trained before turning to jazz, R 'n' B, soul and pop, sharing stages with the likes of Hugh Jackman, Ricky Martin, Chick Corea, Tina Arena, Sharon Jones and the Dap Kings, and The Blues Brothers Band and eventually settling in London.
Catching up with Ferro two days after the launch, she is bright and chatty.
"I wanted to make sure I was being truthful and open. I wanted the album to feel like a real collaboration but still with my essence and my energy," she tells me.
Stylistically, Ferro describes her album as the musical melding of Norah Jones and Bonnie Raitt, marrying the "simple but lovely, lush, beautiful writing" of Jones with the "pop rock, soul edge" of Raitt.
For me, the most strikingly honest performance on the evening of the launch was pared-back original "All In The Name of God".
"I'm a western woman living in a world where I'm free to go places without having the fear of violence being used against me," Ferro says.
"Women are treated so badly in so many places around the world and I wanted to do something. At the time I had no idea what I wanted to do. For me it wasn't about bashing anything. It wasn't about religion bashing or man bashing or anything like that."
Instead, she turned to music. The result was "All in the Name of God," of which Ferro is immensely proud.
The song is being released as a video clip with proceeds going to the Aschiana Foundation, which seeks to help children living in Kabul, Afghanistan by providing education, vocational training, arts programs, and recreation. Ferro is of the belief that "we need to educate young boys so they can treat women differently to the way their fathers and grandfathers did."
And reflecting on her latest album and triumphant launch at 505, Ferro is eternally grateful for everything that has brought her to this point.
"I can stand on stage with all my years of experience and feel like I'm coming into my own," she confides. "Music is the longest-standing relationship I've ever had. Music never lets me down. Music is always there for me.
"I can't imagine my life without it."
Nina Ferro's album Into the Light is out now.