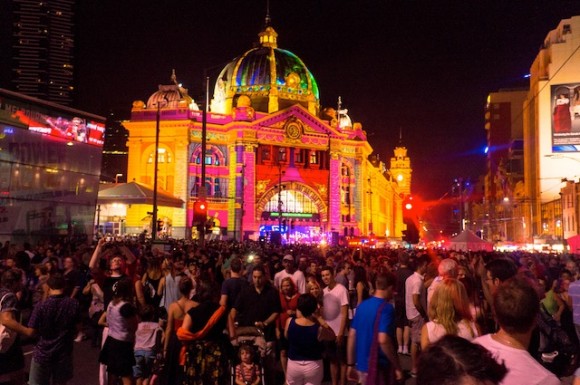 The white night festival in Melbourne on Saturday 23 was extraordinary! Flinders Street turned into living musical light work as the buildings surrounding the Melbourne Exhibition Centre and Flinders Street Station were converted into masterpieces.
The patterns projected in the light installations conveyed the colour and diversity of Melbourne and made an already lively city a living work of art.
In a night celebration of music, theatre, dance, design, food, film, fashion, sport and art that went from 7pm to 7am, thousands strolled the streets in awe sampling the fare from the food stands lining the sides of Flinders Street and enjoying the strains of music coming from the Theatre Of Dreams.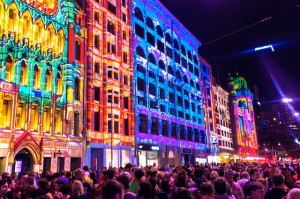 More than 80 acts across 40 locations in Melbourne's CBD transformed the city's streets into a wonderland of light and sound, where spectacular illuminations and projections invited art and culture to rule the night.
It was an excellent event for all ages, and very family friendly. Theatres, galleries and restaurants kept their doors open all night as people rediscovered the city's laneways, public buildings and parks. More than 100 projects by local and international artists, ranging from small intimate experiences to large spectacles, offered a remarkable experience for all to enjoy.
The atmosphere was welcoming and bright, a real juxtaposition to the sometimes more sinister face of the city at night. As people moved through the hustle and bustle of the streets the feeling of excitement pulsating through children and adults was palpable. This was Melbourne in its glory… the reason it is one of the most livable cities on Earth.
Henry Steinway
The night was still young but the final target of my interest was Henry "RL Grime" Steinway (which is a part of the "WeDidIt" Collective's sample conjurers). So we headed towards "Rats" at the Colonial Hotel for RL Grime's pop-up gig, which gave punters three days' notice of his arrival.
The effort was worth it: everyone in the place was bouncing off the walls when we came in as RL Grime was doing what he does best! The crowd was alive with the bass essence of hip-hop; with the extended knowledge of sampled beats, RL Grime is the conductor of an orchestra constructed by an archipelago of electronica. The crowd and atmosphere was exhilarating, everyone was drenched with sweat while we all bounced and bombed to the ace performance by RL Grime. What a night!