Love cannot be labelled. People should be free to fall in love with the person they choose, regardless of sexual orientation, race or religion. Unfortunately, society has pre-set standards of what "normal" should be. This has become a crucial issue in current debates about same-sex marriage and equal rights. Pluralism is not a matter of being gay or straight, but the right to freely express yourself, simply because it is a fundamental human right.
In May 2012, 26-year-old American Shane Crone released a video on YouTube titled It could happen to you in which he shared his grief on the death of his partner, Tom Bridegroom. Shane told the world of his frustration after being rejected by Tom's family who did not even allow him to attend to the funeral of the man who for many years had been the most important person in his life.
The video that quickly went viral worldwide and today has nearly 5 million views on YouTube caught the attention of writer and television producer Linda Bloodworth-Thomason. Linda approached Shane with the idea of making a documentary of his experience aiming to raise awareness about the need for egalitarian same-sex laws.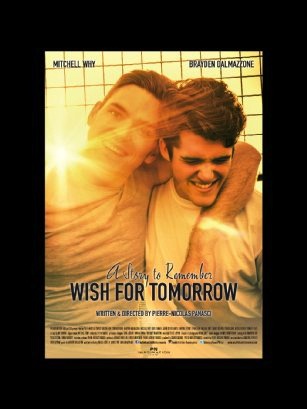 In Australia, French director Nicolas Panasci decided to bring the story to the big screen. Wish for tomorrow is not just a story about gay rights; it is a call for reflection. The film explores the consequences of living in a society of double standards and the struggle of inequality.
The story takes place in Sydney when Michael and James meet and start a romance that will trigger a series of events. The relationship will face many obstacles. After a secret is revealed, an unexpected tragedy will change the life of the couple who strive to protect their relationship and survive the shock.
Panasci was moved after seeing Shane's video on YouTube. At the time, he was writing a horror movie, but he couldn't go back to it. Shane's story had inspired him.
Panasci thought the story was very relevant in Australia, especially since gay marriage is still not legislated. He contacted Shane and asked for permission to share his story. "My story is your story. Share it as much as you can," Shane told Panasci.
Panasci then contacted Coleen McMahon, a close friend of the late Tom Bridegroom and Shane. She had written the song "Beautiful Boy" that was included in the documentary Bridegroom.
Panasci wanted to use the song in his movie and Coleen did not hesitate to collaborate in the project. They were in touch via email and skype for a year. "I didn't ask any personal questions about Shane and Tom," Panasci says. "I wanted to tell the story from my perspective…it was based on a real story but keeping my personal touch."
McMahon travelled from LA to Australia recently for the movie's premiere. "The film was very well done. Nicolas did a great job," she says, expressing at the same time how hard it was for her to watch Wish for tomorrow.
She is very passionate about equality and thinks these types of movies are necessary to spread the message of tolerance and inclusion. "This film is going to reach a global audience," she concludes.
Currently Wish for tomorrow will only be screened at festivals within and outside Australia but Panasci doesn't rule out the option of making it available online.
Despite the obstacles, the result is a film that is well worth the effort. Thanks to real characters and credible performances, the movie successfully transmits its message.
Panasci and McMahon express their commitment to a more pluralistic society, and when it comes to discrimination, changing people's hearts and minds is truly the wish for tomorrow.