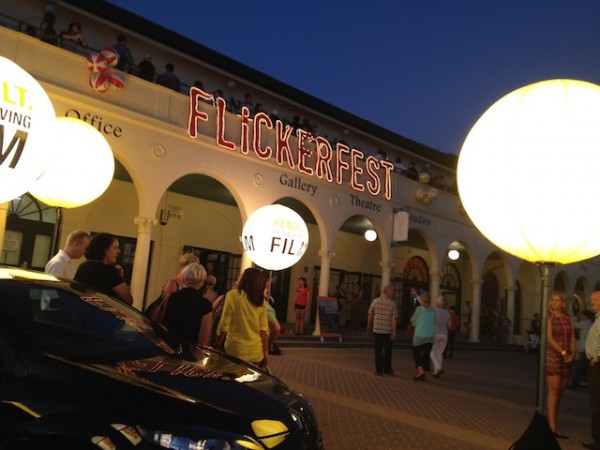 The 22nd Flickerfest international short film festival opened at the Bondi Pavilion last night on a perfect balmy Sydney evening.
The audience was in a party mood as they enjoyed a selection of the 100 films chosen this year from 2300 entries worldwide.
Among the films screened on opening night was the French 12-minute film It's Not a Cowboy Movie in which director Benjamin Parent explores the theme of sexuality with two teenagers – two boys and two girls – separately discussing the film Brokeback Mountain which had aired on television.
The amusing 7-min mock scientific documentary from Germany, The Centrifuge Brain Project, written and directed by Till Nowak, investigates the effects of  bizarre amusement rides on the human brain. The conclusion? "Gravity is a mistake".
Several Australian short films were screened. The Captain, written and directed by Nash Edgerton and Spencer Susser,  shows a man waking up to a hangover and a hell of a lot more. Edgerton, who attended the opening, told the audience the film was finished that morning and he would be viewing it for the first time too.
Lois, an 8-min film starring Jacki Weaver, shows a woman's rather spectacular (and impossible) reaction to a letter.
The most memorable of the Australian films though is Suspended, written and directed by Damian Walshe-Howling and featuring Damian Gameau. Caleb, 7, deals with tension at home caused by dad's extramarital affair by turning to the magical possibilities in his imagination, encouraged by the blind man in the shed. This film is beautifully shot and powerfully evocative.
The other standout of the night is the UK film Friend Request Pending starring renowned actress Judi Dench in this lighthearted and amusing take on the attractions and perils of social media in scoring a date.
Canadian animated film Runaway, from writer/director Cordell Barker, presents a Titanic-style class struggle for survival on a runaway train . This film was nominated for an Academy Award for Best Animated Short Film in 2010.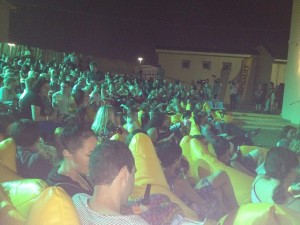 This year the festival has an Elvis theme and will offer such gems as Viva Las Possum, Elvis Und Ich and Elvis Lives in Parkes (and more).
Oh, and Elvis rocked at the after party.
In a coup for the festival, the Best Australian Short Film Award will now be officially Academy ®Accredited. The Short Films and Feature Animation executive committee will begin to accept winners this year and the Australian award will now join Flickerfest Academy Accredited Awards for Best Film and Best Animation in the international section.
Flickerfest runs until January 20. For the full program, visit http://www.flickerfest.com.au/