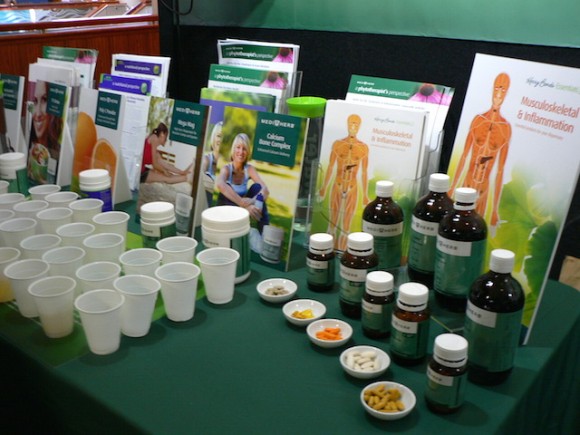 An ill female health worker has been admitted to Canberra Hospital this week and is being treated in isolation under the hospital's Ebola protocol after returning from West Africa. The results of the Ebola test are not yet known for the woman who was working at an Ebola treatment clinic in Liberia but did not treat any cases of Ebola overseas.
Ebola has been very much in the news but not Chikungunya – yet. The mosquito-borne virus could be responsible for the next disease outbreak according to Dr Karen Bridgman and Jennie Burke who spoke at the National Herbalists Association of Australia International conference held in Sydney from March 20 to 22.
Ms Burke established Australian Biologics Testing Services in 1985 which carries out a range of scientific testing.  Uniquely, the laboratory offers DNA tests for chronic infectious disease such as the tick-borne disease Borelliosis (Lyme disease) and can detect even low levels of a responsible pathogen. It is the only laboratory in the southern hemisphere that tests for Mycoplasma fermentans, a very small bacteria and often a Lyme co-infection.
Dr Bridgman ran various nuclear medicine departments around Australia. After taking a herbal medicine course in 1980 her life changed and she has been in naturopathic practice ever since, as well as teaching at institutions such as the University of Western Sydney and the University of Sydney. In her clinical practices, Dr Bridgman specialises in infectious disease, cancer and neurological issues.
The exotic diseases presentation by Ms Burke and Dr Bridgeman looked at several less popularly known pathogens and offered ways to help prevent and address the diseases they cause.
Chikungunya, first identified in 1952 in the border area between Tanzania and Mozambique,causes an acute infection with symptoms such as fever, headaches, fatigue, rash and persistent joint pain that can last for weeks and even years. The name, derived from a Makonde word, is translated in Swahili as "the illness of the bended walker".
Asparagus racemosa, a traditional Indian Ayuvedic plant remedy, can be sprayed onto water courses as a protective measure. The root extract is ovicidal, larvacidal and adulticidal against the vector mosquito. Topically the aromatic essential oil lemon eucalyptus (Eucalyptus citriodora) and Neem (Azadirachta indica), another Indian plant medicine, can be applied. Lemon eucalyptus also inhibits the Borrelia tick from binding to the skin.
Another infectious disease, Toxoplasma gondi, which is a single celled parasite, can be mind altering.
"It alters circuits in the amygdale muddling fear and attraction," Ms Burke said referring to animal experiments. "Toxoplasma is frequently found in fertilisers and can infect virtually any mammal."
The parasite can be picked up from eating raw or partly cooked meat, especially pork, lamb or venison containing the cysts, and unwashed vegetables or when using knives, utensils and chopping boards that have been contaminated. Occasionally it can be transmitted by drinking water from a contaminated source.
As humans are infected by ingestion of oocysts spread from faeces of infected cats, care should be taken when cleaning out a cat's litter or sandboxes and gardening. The parasite can survive for over a year in the environment and be passed from mother to baby.
Ms Burke said Pedersen MG et al research published in 2012 in Arch Gen psychiatry, "Toxoplasma gondii Infection and self-directed violence in Mothers" found that "for 11 to 14 years after being infected the mothers were 50 per cent more likely than other women to cut, burn or otherwise hurt themselves and were 80 per cent more likely to attempt suicide".
Around one third of the world's human population is infected with Toxoplasma.
Should the public be fearful of exotic diseases?
"In Australia I don't think it is necessary," Dr Bridgman said.
"If you are travelling you need to awar, but I think that the concept of being fearful of them is not a good idea. There is a lot you can do to keep up your immunity and health to remove that fear factor."
Infection has plagued humans forever, Dr Bridgman said. At some level it comes back to being as healthy as you possibly can be because we are all exposed to these things, she said.
Dr Bridgman favours a range of measures based on diet and lifestyle: eating healthy organic food, not smoking or drinking too much alcohol and taking herbal remedies to support the immune system.
"Avoid eating processed food and too much sugar that can result in your immune system being less functionally accurate than it should be.
"Go to a practitioner to refine the process and if you are going to travel to an area where these bugs are prevalent choose a practitioner who can assist you to follow a prevention program."
A correct professional diagnosis is essential and a treatment protocol should be followed under the advice and supervision of a suitably qualified health care professional.
Plants, and spices, such as turmeric and black pepper, have been helpful for these infectious diseases.
Some remedies have broad spectrum immune activity like olive leaf extract. Then there is the more specific approach. Astragalus root (Astragalus membranaceus), a Chinese herband Baical skullcap (Scutellaria bicalensis) have been shown to dramatically inhibit parasitic intracellular replication of Toxoplasma gondii in vitro and in mice. Astragalus is used for more chronic illness and can also be taken as a prophylactic remedy to help build a strong immune system, Dr Bridgman said.
"Astragalus helps prevent tick bites so Borelliais is of course less likely to become a problem and Andrographis [also known as Indian Echinacea] is a good anti viral/anti bacterial and digestive/liver herb that helps build immunity."
Other herbs such as chamomile, parsley, celery, guava, grapefruit and milk thistle and many essential oils have also been used successfully.
Ms Burke, whose interest in cancer has also developed over the years, looked at the role infection plays in cancer. She ran the first Australian World Congress on Cancer in 1994, which was followed by two more congresses in 1995 and 1997.
As with the holistic approach to combating exotic diseases, Ms Burke believes in and has always welcomed the broad-based approach adopted in German cancer treatment.
"I got interested in the German way of doing things," she said. "They use a whole range of different modalities, combining chemotherapy with homeopathic medicines for instance, and the attitude is if it works we will use it."
DISCLAIMER
The information presented in this article does not include diagnosis of medical ailments or drug/herb interactions. Please consult with your NHAA medical herbalist, GP or pharmacist for a diagnosis of symptoms and advice on what plant remedies are safe and effective for your unique needs. The author may not be held responsible for any adverse effects or consequences that may arise as a result of implementation of any of the information contained in this article or for any omissions or errors within it.