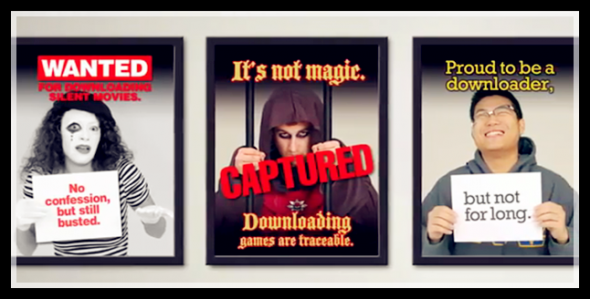 China's weak  copyright laws have exposed its young people, at home and abroad, to the scrutiny of powerful corporations, leading the Chinese Government to improve public awareness of copyright protection.
On November 16, NBC Universal  sent a warning to a Chinese student studying in America for illegally downloading Downton Abbey, a British-American period drama using downloading software, eDonkey.
The student, Miki, was suspended from the New York university and warned against any more violations when he downloaded the TV series from YYeTs, a popular Chinese forum that provides downloads of latest American, British and other countries' TV dramas complete with Chinese subtitles.
NBC Universal emailed Miki and required him to delete all downloaded copies or face legal action. The email listed the title of the downloaded drama, Downton Abbey, and Miki's IP address.
"Your Internet account was identified as having been used recently to illegally copy and/or distribute the copyrighted NBC Universal motion picture(s) and/or television show(s) listed at the bottom of this letter. This notice provides you with the information you need in order to take immediate action that can prevent serious legal and other consequences," NBC Universal wrote.
Miki shared this experience, together with a warning, on Douban, a Chinese online film forum.
"[NBC Universal] knew exactly what I downloaded. I feel extremely insecure and just like I'm naked," Miki wrote.
The post attracted more than 200 responses with people in China expressing surprise at how "strict" copyright law is in America. Chinese students overseas shared similar experiences they have had in Britain, France and Germany.
"About 98 per cent of anyone downloading in school will be caught, which is higher than the success rate of contraception by condoms. Are you an idiot?" one responded.
"First of all, never use network cable socket in your dorm. Use anonymous wifi in school and ban Mac. And get a membership of Thunder or Tencent and try their offline download," another posted.
Chinese students overseas have been seeking alternative download tools to eDonkey, which is risky because it can be traced and was banned in the USA in 2005.
Much of the problem stems from the fact that people in China are accustomed to downloading whatever they like from multi-channels online and may even be unaware that what they are doing could be illegal.
But inadequate copyright law in China and weak copyright awareness has placed its students and workers overseas at legal risk; it is also ruining China's domestic entertainment industry prompting Bejing to take action to improve its copyright laws.
At a diplomatic conference held in Bejing in June to protect audiovisual performances, Chinese State Councillor, Liu Yandong, said that the establishment of a modern intellectual property system in China was recent and there were still shortcomings in the protection of intellectual property rights.
"Although copyright infringement still exists in some places, the Chinese government has a clear and firm attitude to protect copyright and will take strong measures," he said.
On November 12, Liu Binjie, the government's Press and Publication Administration Director, said on China Central Television (CCTV) that China's copyright law was being revised to intensify digital copyright protection and strengthen legal measures.
"In the past, people who sold over 600 pirated CDs would be sentenced, but in future, the number will be dropped to one or two pirated copies," Liu said.
Ding Yang, an editor of Tencent, one of the biggest Internet companies in China, said this change was "strict" and "impressive" but might not have a big effect.
"With the rapid development of the Internet, illegal downloading is now common in China. Because Internet downloading is free and convenient, the market share of pirated CDs has shrunk by 30 per cent, which means illegal downloading has become the principal enemy of intellectual property protection," Ding said.
Illegal music downloads in China have skyrocketed to 99 per cent, according to the 2012 annual report of the International Federation of Phonographic Industry (IFPI). China has double the network users of the United States but the average pay per person of Internet music in China is only 1 per cent that of the US.
"There were over 2,600 independent record stores in Beijing in 2005. Since then, it is reducing at a rate of 500 stores per year," sales director of Universal Music Group told the China Youth Daily.
The recent survey conducted by Tencent showed 87 per cent people are unwilling to pay for downloading material online, which is nearly seven times the number of people who are prepared to pay – an increase of only 9 per cent from a similar survey conducted in 2009.
While profiteers are severely punished for trafficking pirated copies, there has been no action against ordinary netizens who download videos or music from the Internet.
But the lesson from overseas is that warning and punishing end-users who illegally download may be the only way to enhance copyright awareness in Chinese people.