Cloud Control celebrated Australia Day by claiming two spots in Triple J's Hottest 100 countdown plus performing a joyously fun, free set in The Rocks. The indie rock quartet headlined the First Fleet Park Stage, against the iconic backdrop of Sydney Harbour and the Opera House, as part of the Australia Day street festival.
While their songs are often ethereal and wistful, frontman Alister Wright's guitar thrashing and upbeat vocals made for a cracking live performance. Heidi Lenffer commanded the keyboard and gave the tambourine a red-hot go.
Cloud Control opened their set with their dreamy track "Dojo Rising," a song that secured them Hottest 100 glory this year.  A generous mix of songs from the band's 2010 debut Bliss Release and 2013 album Dream Cave followed, including "Happy Birthday," "Meditation Song #2″ (why-oh-why-oh-why-oh-why-oh!) and the gorgeous, soaring vocals of "This Is What I Said".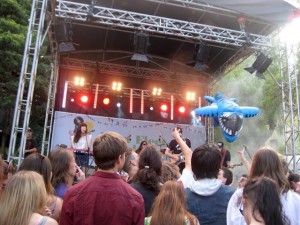 A slice of indie-rock history was summoned by the crowd-pleasing cover of the Go-Betweens gem "Streets of Your Town." Punters lobbed a giant inflatable shark over a sea of heads as the band launched into the foot-stamping hit "Gold Canary".
"Thanks so much for voting us into the Hottest 100!" Leffner cheered as they played their popular hit "Scar," which reached number 52 in the countdown.
The evening wrapped up with a jangling rendition of "Buffalo Country" – an oldie but a goodie – off the band's 2008 self titled EP.
The all-ages crowd was a colourful blend of Cloud Control fans (wedged right up the front), tourists and families. And best of all, the beer-chugging bogans synonymous with Australia Day did not show their zinc-smeared faces.