Stop! Quickly, reverse!
Like a well-rehearsed play, the vehicle's windows open, all cameras and binoculars veer to the potential sighting and except for the soft drone of insects from the scrubs, everyone sits in absolute silence.
False alarm: a deceptive branch, which can easily be mistaken for a large cat's tail.
With 147 types of mammals, over 500 bird species, 336 types of trees and hundreds of reptile, amphibian and insect species, the Kruger National Park is wildlife nirvana. Founded in 1898, the Park is situated in the picturesque Limpopo and Mpumalanga provinces in South Africa's north-eastern corner and was established to conserve wildlife in the country's Lowveld area. Kruger Park is Africa's largest conservation area at nearly 20, 000 square kilometres, which makes it larger than the Netherlands.
Today, Kruger welcomes visitors from around the world and is an excellent place to spend a relaxing vacation, experience traditional African cuisine and of course spot the famous Big Five roaming the savannah.
Mr Gert Erasmus, a former environmental educator and game ranger, worked in the Kruger National Park for almost 20 years. Besides being very involved in conservational activities, Gert also conducted extensive wildlife research and facilitated the filming of several environmental and wildlife documentaries as well as regularly escorting high-profile parties on guided tours through the Park.  For Gert, "Kruger Park is an excellent escape from the bustle of the city, a place to sit back and enjoy what Africa and the serene bushveld has to offer".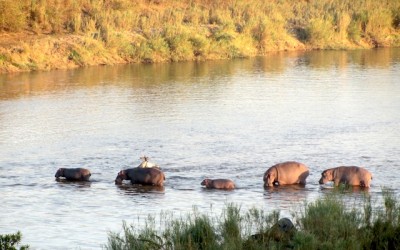 The vast stretches of tranquil bushveld that is now home to thousands of species was not always idyllic. Historically, Boer settlers who moved to the then Transvaal region during the gold rush inhabited the area where Kruger is today. During this time, it was common to hunt game freely – in fact the Big Five was named after the five animals that were the most difficult to hunt on foot. Subsequently it was realised by Paul Kruger, then President of the Transvaal, that there was a need for wildlife conservation in the area. Families of the region donated farmland and a series of conservation acts were passed. The Kruger National Park was opened to the public in 1926 and has become an extremely popular holiday destination, for foreigners and locals alike.
Ever since I can remember, my family has spent our annual holiday in Kruger Park. Lately, when visiting the Park we swapped the two-day drive from our home in Cape Town for a two-hour flight to Johannesburg instead. Although direct flights to Kruger's head camp, Skukuza, are no longer available (my grandmother recalls how ground-staff would chase impala off the runway to make landing possible) Kruger is a short drive from both Johannesburg and Nelspruit's airports.
Besides preferring the flight up, my family also grew out of camping and now rent rondavels, the traditional round African-styled chalets. Of course, every night we still indulge in a traditional Afrikaans wood fire braai. And while we BBQ we listen to the distant groans of lions and the laughter of the hyenas from the camp's fence while we exchange stories about the day's sightings.
In Gert's experience, Kruger is a place where bonding is possible. "Kruger's camps are often the place where people have time to share stories around a campfire and foster old or new relationships. When people visit Kruger they share a common interest, whether it is the Big Five, trees, birds or the simple need for a get-away."
Despite having worked in Kruger for many years, for Gert, it is not just a work place — it is a place where a passion for the bushveld is shared.
"When you are in Kruger you get a sense from the Park's staff that they are proud to work in such a magnificent place," he says. "Excellent conservation is quite visible in Kruger with the array of specialist staff and excursions available to visitors. Game rangers don't get paid much and it's definitely not just getting on with a job; they are truly very passionate about nature. In fact, many consider it a privilege to be involved in Kruger."
What does a visit to Kruger entail? Bushveld landscapes, extraordinary creatures and an unforgettable holiday. According to Gert, because the Park is open all year round (the recommended time to visit is the dry season from April to September), Kruger is very popular with tourists around the world. "The flora and fauna in Kruger is seen as the ultimate of what Africa has to offer," he says.
Gert speculates that Kruger has been very accessible and welcoming to tourists since the British settlement in South Africa brought the English to this region. "Not only does Kruger offer incredible diversity, it also showcases unblemished nature, which provides the 'Out of Africa' romanticism that many foreigners desire. In the 1950s the British royals came for a special Park visit which significantly boosted overseas tourism to Kruger."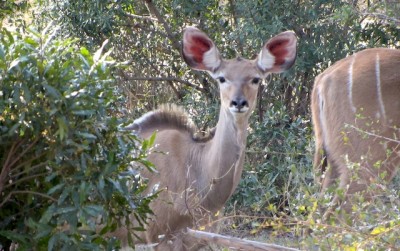 Whether beholding a colossal herd of blue wildebeest, a warthog gallivanting across the road or witnessing a lethal catch, Kruger is ideal for a true African safari. Although locals favour the term game drives to safari, Kruger offers an exotic experience like no other since the Park's concept is quite remarkable. Except for elephant culling in earlier years and occasional back burning, the region is untouched by human interference. Day as well as overnight visitors are welcome in the Park but it is essential to make reservations well in advance for overnight stays.  Although organised tours to Kruger are available, most visitors hire a car at the airport and experience the Park at their own leisure.
When entering Kruger through one of the nine main gates, the traditional thatch roofs with wooden beams — well as the rangers dressed in traditional cargo-green and khaki safari-uniforms — will welcome you. Entry to the Park involves a small daily fee, which goes towards maintenance and park conservation. There is a chance you might have to queue at the gate. "Because visiting the Park is so popular, Kruger had to implement a daily quota system. There is something esteemed about visiting Kruger because it is such a sought after 'life experience', something people are willing to queue for," says Gert.
Once inside the Park you are not allowed to step out of your vehicle unless in a camp, picnic spot or a designated lookout point.  Even then it is all done at visitors' own risk.
The Park has 13 main camps and about a dozen other lodgings including bush lodges, luxury camps and overnight hides. The most popular accommodation option is any of the main camps, as each site is fitted with a small restaurant and shop for fresh groceries, necessities and souvenirs. Gert says the Kruger is an excellent option for tourists to experience the wildlife while enjoying superb convenience. "The Park has excellent facilities and well-developed infrastructures which makes a visit to Kruger attractive and comfortable."
Accommodation choices in the main camps range between booking a camping spot (which shares amenities like restrooms and kitchenettes) and ready-pitched tents (also with shared facilities but these are fitted with beds and some basics) and of course rondavels or chalets (which in most camps are fitted with all amenities including a small kitchenette). Whatever your preference, the camps are child-friendly (I recall making many friends from around the world while roasting marshmallows over a campfire). It is also a relaxing holiday destination where traffic noise is replaced by the chirping of Glossy Starling and Loerie birds and the Park is largely safe, except perhaps for the occasional squirrel visiting your food supplies. Other possible in-Park hazards include the risk of malaria during the wet season, tick-bite-fever and insect bites — and visitors should be mindful of snakes and scorpions. But Gert assures that: "Most of the possible problems for visitors are preventable but in the unlikely case of a medical emergency, care is available from on-site doctors. If visitors abide by the Park rules like staying in their vehicles and not feeding animals, it is really very unlikely that a visitor will sustain an injury as a result of a wild animal."
Within the camps, visitors can enjoy a great bush experience. Most camps have lookout points that often boast a view over a river or dam. These areas are great for bird watching, spotting lazy crocodiles on riverbeds and witnessing the wide yawns of half submerged hippos. From the comfort of the camp's fence, it is also common to spot impala, zebras, elephants and other animals that come to drink from the nearby waterhole.  Often a stray bushbuck might find its way inside the camp and idly graze between rondavels and of course Vervet monkeys are considered locals in the camps.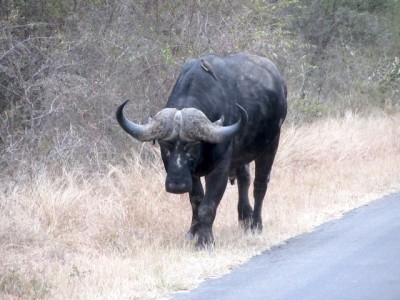 But for the true safari experience, and a chance to see the Big Five, a drive around the Park is essential.
Setting out on a game drive can be done at your own leisure or you can choose to take an organised game drive on an open land-cruiser with an experienced game ranger as your guide. These trips are approximately $30 per person and vary in duration. Guided tours are excellent since rangers are knowledgeable about the animals and plants and keep close contact with other rangers who can alert them to sightings. Since the Park closes at night (and requires all visitors to be inside a camp by dusk), night drives in the Park are only available through guided tours.
The most common option is to venture on game drives unguided, which allows you to enjoy the bush at your own pace since you can choose the time, duration and route of your game-drive, as well as decide where to make your stopovers. Gert agrees it is worth experiencing Kruger unguided. "Experiencing the bush at your own leisure and spotting elephants, buffalo or even lions is something quite remarkable and the sensation is unmatched." Early morning and late afternoon drives are considered best since animals tend to lay low during the heat of the day. It's worth noting that during game drives, you won't always get exquisite animal sightings and often you might only experience the tranquillity of the shrubs…
But on an average game drive, there is a good chance of being thrilled by some kudus, a herd of zebras, a few rhinos, some comic baboons and of course dozens of impala. Naturally, spotting the Big Five is enthralling, but don't always count on it as these five species can be very shy. In recent years, rhino poaching has rocketed throughout Southern Africa and currently rhinos are poached at a rate of 2.5 per day. Sadly, Kruger is a very popular poaching spot.
When in Kruger it is common for visitors to spot a white rhino (and perhaps the rarer black rhino), spot a buffalo and possibly a sizeable herd roaming the savannah. Even though in the last three decades the buffalo population has been affected by buffalo-tuberculosis, the chance of seeing a large bull, lazily flicking its ears to chase away flies while chewing sideways on a blade of grass, is very possible.
When out on a drive you might approach a cluster of parked vehicles blocking the road (from a distance you'll notice camera lenses aiming at the low grasslands, people excitedly pointing and binoculars glued to eager viewers' eyes). In Kruger, everyone knows what that means: Lions. Whether they are far off in the distance or casually strolling between cars, there is something remarkable about spotting the King (or queen) of the jungle in the flesh. The shyest member of the Big Five is probably the leopard. These cats are often seen in the nook of a marula tree, which can make spotting the spotted creatures quite tricky!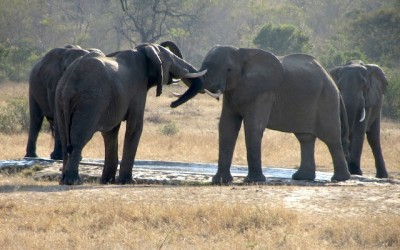 Of course, one infamous member of the Big Five might force you to take a detour. Although elephants are usually quite docile and even playful, they can be very dangerous. Elephants have rolled and trampled cars in Kruger and these animals should be avoided when agitated. Flapping ears, making noises and vigorously shaking the head are classic signs to get away from an elephant. A favourite activity of elephants (who usually roam the Park solo) is to occupy the middle of the road and cause all traffic to divert.  From personal experience it is recommended that on your day of departure from the Park (particularly if you have a flight to catch) factor in the possibility of detouring as a result of a grumpy elephant on the road.
Whether you see the Big Five, a pack of wild-dogs or just impala and shrubbery, Gert says a visit to Kruger is multi-dimensional. "You can't experience Kruger just from a game-drive. Kruger requires you to use all your senses: walk barefoot and experience nature's grass and thorns, smell the plants and fresh bush-air and listen to the birds and insects. Marvel at nature that is still undisturbed."
Of course, another excellent way to experience the bush is to indulge in a typical Kruger-tradition by making a stopover at one of Kruger's famous picnic spots (located in the heart of the bush)—an excellent way to experience the Park as well as to stretch your legs between game drives.
The picnic spots around the Park are common for breakfast, brunch, afternoon tea and even lunch. Afsaal, Tshokwane and Schingwedzi are amongst the popular picnic destinations where it is a tradition to hire a gas braai and buy some ingredients from the picnic spot's little café to fry eggs, bacon and bread. Occasionally, a strayed hyena might be lurking nearby, drawn by the cooking aromas, which may possibly unsettle picnic goers. However, most troublesome for visitors are the occasional little furry grey thieves who snatch food right out of your hand when you are not paying attention. As regulars, my family and I have countlessly witnessed how little Vervet monkeys cheekily (and eloquently) snatch a toasted sandwich from a German tourist's hand, or grab a hot sausage right off the braai. Naturally, no-one enjoys losing their breakfast, yet the charm of the Vervets is usually met with excitement, laughter and flashes from cameras (and perhaps a few curses in German).
Although picnic spots traditionally didn't sell ready-made food, it has become a convenient and popular alternative to cooking your own food over the braai. Gert fears that Kruger might soon be forced to open its gates to franchises.
"Sadly, the South African government has withdrawn much of its financial support for the Park. Subsequently, Kruger has had to become self sufficient and that is why the Park has somewhat commercialised. Shops, cafes and even restaurants are all being privatised and outsourced, even franchised, in order to keep the Park going," he says.
Gert admits he is a purist when it comes to the Park because Kruger is very dear to him and he hopes it will always be treasured and respected.
"I hope future generations can enjoy the wonders of the bush. Kruger is a wonderful place which teaches and shows the remarkable things in nature," says Gert. "The Park is a place where gaining perspective is possible. Kruger, with all its wonders, is something that every person should experience."
He is so right. There are few travel sensations that compare to experiencing the bushveld with the sounds of insects humming, the calls of wild birds and witnessing the deceptive marula branch come to life as a leopard lounges in the tree's nook, all the while enjoying the breathtaking and unequalled African sunset over the vast stretches of savannah.