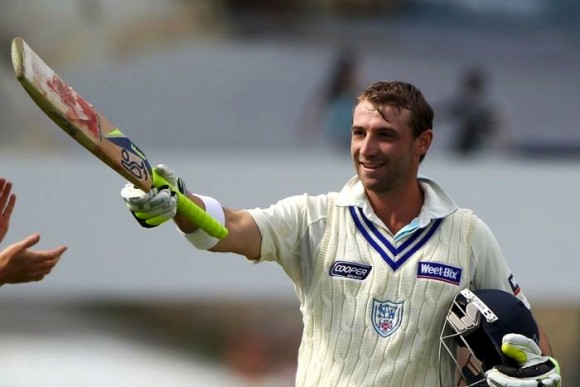 Today Australia and the world of sport is in mourning as the family of Phillip Joel Hughes and the people of Macksville prepare to farewell the young cricket player who died last Thursday. His tragic sudden death, only three days before his 26th birthday, has shocked the nation.
The service in Macksville today at 2pm is expected to draw more than 5000, and will be broadcast by the Seven, Nine and Ten networks, ABC 24 and Sky News, and screened in Melbourne's Federation Square from 1.30pm.The public will have the opportunity to pay their respects at a State Memorial Service to be held at the Sydney Cricket Ground on a date yet to be confirmed.
Phillip Hughes lost his life due to a fatal injury inflicted when a routine ball struck him during a cricket match in Sydney on Tuesday. In what was another day at the crease for a much-loved teammate, a routine play saw Hughes mistime a shot that freakishly struck an unguarded part of the lower back of his neck. He gallantly tried to stay upright, but collapsed before the eyes of close cricketing friends and teammates.
The seriousness of the situation became evident as lack of movement from Hughes quickly triggered an urgent response. With a top medic on hand assessing the situation and St Vincents Hospital only two minutes away from the scene, every measure was made to stabilise his condition as quickly as possible. But despite the efforts of all involved, the worst possible outcome prevailed.
Phillip Hughes was widely regarded as a loyal and generous person, an optimistic and kind-hearted man with a verve for life. He dearly loved his family and their salt of the earth qualities and values that he himself embodied. The fact that he never complained or dropped his head when he was replaced or not scoring runs for his team endeared him even more to his teammates and to the cricket-loving public, but it was his humility and spirit that inspired both love and respect.
But respect and admiration for this talented sportsman was not confined to his country of birth.  The sombre news has reverberated around the globe with an outpouring of feeling transcending beyond cricket and the world of sport – the heartfelt outpouring of condolences from around the globe is testament to the esteem that he inspired. Hopefully this will be of some comfort to his family, friends and colleagues in this sad, sad time.
Rest In Peace Phillip Hughes, you will not be forgotten.
1988 – 1914