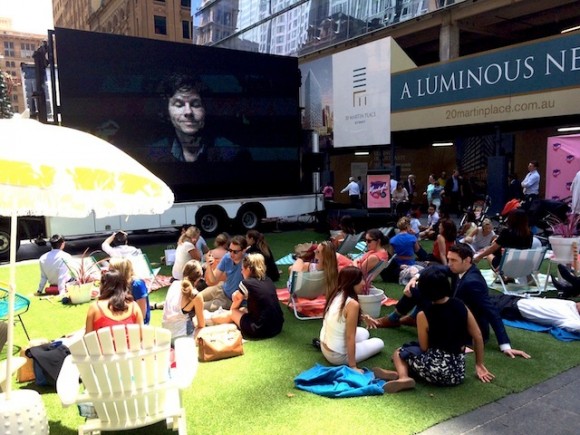 Moonlight Cinema announced its program for the 2014/2015 summer edition with a public lunchtime launch at Martin Place on Wednesday.
The city crowd welcomed the colourful open-air cinema setting and seemed to appreciate a lovely pop-up picnic, the opening speech from Moonlight Cinema director Ian Sutherland,  and trailers announcing some of the best summer blockbusters.
"The upcoming season is by far the biggest yet for Moonlight Cinema, especially when it comes to advance screenings and new release films," Sutherland said. "It certainly adds an extra level of thrill and enjoyment watching a film outside under the stars, knowing that you're amongst the first audience in Australia and sometimes, even the first in the world, to be seeing it!"
From December to March cinema-lovers can enjoy the hottest new release films on balmy nights in Sydney, Melbourne, Adelaide, Brisbane or Perth, and bring their own picnic or sample the delicious treats from the LA-style food truck.
The first-half film selection this year will certainly be exciting for a wide range of audiences screening such films as Bill Murray's indie drama St Vincent, Disney's latest release Big Hero 6, superhero film Birdman, WWII drama filmed in Sydney and directed by Angelina Jolie Unbroken, and latest Liam Neeson action movie Taken 3.
Other Hollywood successes will be screened: Paddington, Gone Girl, The Hunger Games: Mockingjay – Part 1, Interstellar, The Interview and even Sing-A-Long screenings for music fans with Frozen and Grease.
Moonlight Cinema will officially kick off the season with a star-studded VIP red carpet exclusive advance screening of mad comedy Dumb and Dumber To on December 18.
Moonlight Cinema is perfect entertainment for friends and family on the long summer nights: what could be better than fun, food and films under the stars?
Moonlight Cinema, Sydney's Belvedere Amphitheatre in Centennial Park, December 11-March 29.