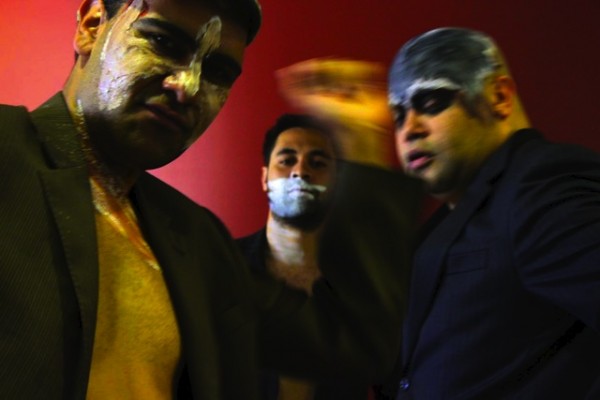 The first Aboriginal and Torres Strait Islander playwriting festival to be held in Sydney in two decades is now underway with six playwrights chosen to showcase their work this week.
The last Indigenous playwriting festival was held in Adelaide in 2000; the last one in Sydney in 1989.
Now the Yellamundie: National Aboriginal and Torres Strait Islander Playwriting Festival has brought together one of the largest gatherings of Aboriginal directors, actors and playwrights ever in Sydney, culminating in readings of six hard-hitting new plays at Carriageworks from February 7 to 9.
This landmark event is a collaboration between the Redfern-based Moogahlin Performing Arts, Carriageworks and the Sydney Festival.
Yellamundie (Dharug word for storyteller) is a celebration of Aboriginal and Torres Strait Islander arts and culture. The festival is about Aboriginal stories, told by Aboriginal people, and has been a rare opportunity for Aboriginal writers from urban and regional areas across Australia to collaborate in a dynamic exchange of ideas over an intensive two-week period.
The work of putting the festival together was done by the National Indigenous Theatre Forum. Its artistic director Frederick Copperwaite said the aim was to create as wide an engagement as possible "because these are all great stories and they deserve telling".
Copperwaite explained the genesis of this important cultural event.
"Every year over the last few years there's been a gathering in Cairns in August, a big talkfest to discuss strategy, policy and the future of the various arts sectors in our community.
"In 2011 one recommendation was that there should be a national playwriting event. We volunteered to take it on, which we did when the Australia Council contacted us with an offer of financial and other support.
"We also received a lot of support from Carriageworks, who are very keen to make connections with the community."
The group began work in earnest 12 months ago and attracted 19 scripts from across the country, with every state represented. A national selection committee chose six scripts for the program.
Plays selected for development are: Weight by Jada Alberts, Dust by Suzanne (Jub) Clerc, First Contact by Jane Harrison, Cuz by Billy McPherson, Crowbones and Carnivores by David Milroy and The Lighthouse by Sermsah Bin Saad.
Themes include the devastation caused to people and place by mining industries; the challenges of relationships between senior and young Aboriginal Australians; suicide and its impact on family, community and spirituality; and tribal traditions within a contemporary Australian landscape.
All the writers are now in Sydney working with directors and actors, developing the scripts through a creative process.
"There will be a reading of those scripts, two plays per night. We didn't necessarily choose the best plays but the ones we felt had the most potential for development. Last week we work-shopped the scripts and this week we will focus on the readings and performance," Copperwaite said.
"In some cases nothing will happen after this but ideally, people from the industry will attend and opt to further develop a script."
But most of the desired outcomes for the festival has already been achieved with evident improvement in the scripts selected for development.
"There has been a real change in the writing and we can see the writers developing. It will be even more exciting when we get it on and do the readings."
Copperwaite says the festival is a significant event, "a massive effort" with 35 Aboriginal artists and actors, and three directors involved.
"It's been just fantastic. There's been a lot of energy, goodwill and generosity. It's been a great opportunity to get together with other artists. There have also been some ups and downs but overall it's gone very smoothly."
The writers have been working with three experienced directors, including Copperwaite who is artistic director of both Yellamundie and Moogahlin Performing Arts. His most recent directing work for Moogahlin is the group-devised This Fella, My Memory which was in creative development at Carriageworks in 2012.
Also on board are directors Andrea James, the newly-appointed artistic associate at Carriageworks, an accomplished director/playwright, whose recent work Winyanboga Yurringa has been selected for the 2013 National Playwriting Festival in Perth this month, and Isaac Drandic, associate director at Ilbijerri in Melbourne and director of Corranderk which played to critical acclaim at the Sydney Opera House last year.
The festival launch on January 27 featured a keynote address by Dr Sandra R. Phillips "First Peoples First Theatre", and a playreading excerpt of This Fella, My Memory created and devised by Moogahlin Performing Arts with Linden Wilkinson.
Festival program:
7 February, 6.30pm:
 Dust by Suzanne (Jub) Clerc; The Lighthouse by Sermsah Bin Saad
8 February, 6.30pm
: Cuz by Billy McPherson; First Contact by Jane Harrison
9 February, 6.30pm
: Weight by Jada Alberts; Crowbones & Carnivores by David Milroy
Yellamundie is at Carriageworks, 245 Wilson Street Eveleigh, Sydney. Entry is free. More information at www.carriageworks.com.au