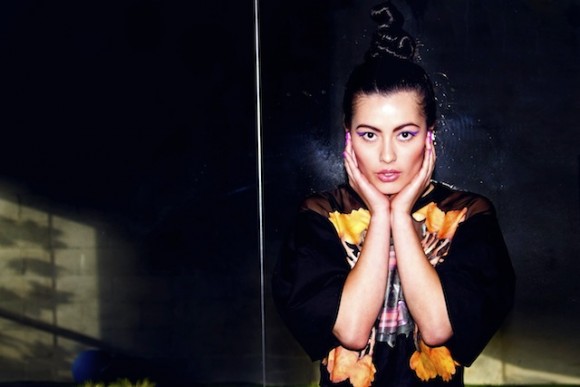 Stylish songstress Kiyomi Vella took a different route to success through reality talent show The Voice, a pathway many vibrant, young Australians are discovering to help kick-start their music careers. A distinctive voice with hints of pop, jazz and soul, as well as an eccentric personal style, Kiyomi is turning heads in the worlds of music and fashion. We caught up with her on her first tour of the east coast of Australia, joined by independent musician Ben Hazlewood, who was also discovered on the popular Channel 9 series, now in its third season.
Q. What's been the best show so far on your East Coast Tour?
Definitely the Melbourne one at the Grace Darling Hotel; that one was great. It was really fun, we had a great sound and Ben had two guitars going. Heaps of people turned out and it was good to talk to many of them; really cool.
Q. I was a huge fan of The Voice last year and you were one of my particular favourites. Let's go back to the auditioning process – was it all mirrors and hairbrushes or was it a bit more technical than that?
Well you have a possibility of being on TV, which is a really crazy thing! We [the contestants] were there for a week before the blind auditions in a hotel in Sydney. So I was doing that song [1,2,3,4 by Heist – sung by Kiyomi in her blind audition] all the time, every single day. I knew it 100 per cent off by heart already but because it's such a big thing, with so many nerves, you just do it again and again and again. But nothing can really prepare you for when you get up on the stage. You're just full of adrenalin and you have to get into that mindset and just do it and go with it.
Q. As we saw throughout the season, you definitely have a knack for a colourful and at times, whacky sense of fashion. What is your main source of fashion inspiration?
The stylist who dressed me for The Voice was just so great. She picked amazing stuff for us – heaps of Romance Was Born and [in episode 21] that amazing white dress with the origami; that was incredible. I'm a huge fan of Kimbra and I really like her sort of style and op-shopping, getting interesting things and wearing stuff like that.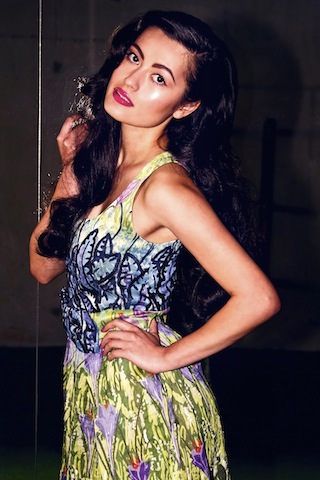 Q. Each judge had a signature mentoring style; for example, Delta seemed calm, positive and supportive while Seal was a bit tougher. How would you describe Joel as a mentor?
He's really cool and laid back; he makes you really chilled out but is serious at the same time. He's got so much knowledge and is so focused on the music. So we went into the sessions before the shows and just worked on the songs. He was like, 'Yep, that's great, alright we've got to do this on stage and we've got to make it big and fabulous and get dancers and everything!' He's got an amazing mind. It was pretty awesome to work with him.
Q. Before the judges turned around, did you have an idea of who you wanted to choose you?
I thought about it, I knew who the judges were going to be but I really wanted to be with Joel and already had my heart set on him. So when Seal and Joel turned around, I was like 'Oh, Joel would be awesome! I really want to be on Team Joel!' so I had to pick him.
Q. Your new single, "Alien", is said to be upbeat with a dark vibe. Where did the idea for the song come from?
I'm constantly writing and this verse came up which was sort of about being in a relationship and your partner has changed and you're not on the same ground anymore and you don't know who he is anymore. So I was thinking for the hook line, "stranger in my bed", but thought that's probably been done before so I had the thought "alien in my bed" and all the anecdotes rose from there. I found myself bopping to it and thought, "Yeah, I'm going to release this one".
Q. Every artist looks up to certain songwriters who helped create their sound. Who would you say shaped your incredibly unique voice?
I'm a huge fan of Kimbra – she's awesome. She's sort of pop, but I wouldn't even classify it as pop. She has a really cool sound, with harmonies and beats. I'm also a huge fan of Katy Perry and she's great. So I'd say my music is a bit pop but a bit left.
Q. One last question just for a bit of fun: If you had to choose three people to invite to your ultimate dinner party, who would you pick and why?
Definitely Katy Perry, I was watching The Voice [season 3] yesterday and there were two girls who got to meet Katy Perry and I was like, "Oh my god I'm so jealous!" So Katy Perry is definitely going to be at this dinner party. Who else? Maybe Leonardo Di Caprio because I have a huge crush on him! Number three, I'd say Kimbra; she can come to this party. She'd just make it heaps of fun!
Catch Kiyomi Vella, alongside Ben Hazlewood and with special guest Mali-Koa Hood, on their East Coast Tour. For tour dates check out kiyomivella.com.