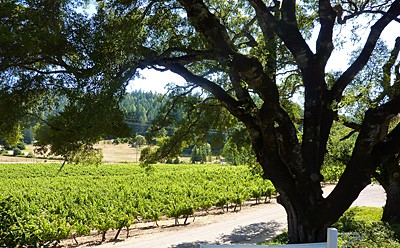 Good wine, good food and good company is what it's all about for the Vasarelli family, writes Erin Holohan.
For Vicky Vasarelli, matriarch of the Vasarelli winery and restaurant in Adelaide's world-renowned McLaren Vale, the trick to surviving in the wine industry is simple.
"If you go out there and try and grow the best, people will always buy it," she says.
The Vasarelli's have been growing grapes in Australia since 1976. In 2009, they decided to combine their love of quality wines and good Italian food by opening their now thriving cellar door and restaurant.
"It was going to be a cellar door where you'd come in and get a platter but the locals turned it into a restaurant," Vicky says. "From the day we opened, we were always booked out."
Vicky's two children, Michael and Maria, opened the restaurant in the hope they could do something to continue their family's rich history with food and wine. They now serve fine Italian cuisine from Wednesday through till Sunday and always accompany their dishes with a quality drop of their own wine.
The Vasarelli business is, like many Italian businesses, a family affair and Vicky is always on hand at the restaurant to accommodate their guests.
"I see whether they've enjoyed their lunch or their dinner," says Vicky of their customers. "I may give them a complimentary glass of wine or a little taste. I look after them."
Vicky, who moved to Australia from Italy in 1966, comes from a long line of Italian wine makers. She has fond memories of helping her parents make wine in Italy, a process which she says was very traditional.
"I remember in those days every household used to have a big square stone – maybe a foot high – and you used to go in and stomp the grapes in there," she says. "It would have a little hole and your mother or your father used to collect the juice through there."
These days, Vicky is a very busy woman and doesn't just oversee the restaurant.
"I am a grape grower. I look after my vineyard and I do the bookwork," she says. "My husband oversees the barrels."
In her time as a grape grower, Vicky has seen many changes in the industry.
"The grapes were worth a lot of money seven or eight years ago and now they are really worth nothing so unless you know how to do things yourself in this industry, as I see it, growing grapes is a liability."
Vicky says this problem is very much a result of oversupply but admits that doesn't mean it isn't possible to succeed, as the Vasarelli's are, in the winemaking business.  Much of their success she puts down to their traditional approach to producing wine.
"We try and grow the best we can in the vineyard," she says. "We still prune by hand and we still pick some of the grapes by hand."
While many have turned to the machine-based mass production of wine, the Vasarelli's are still very much hands-on.
"We work our land and we've got no grass in the vineyard. It's done differently."
The Vasarelli's best selling wine is currently a white wine called Vermentino.
"Whenever we share it at the restaurant, whoever tastes it always buys it," says Vicky who obviously prides herself on the success of this family business.
Vermentino won a Currency Creek award in 2011 and accolades such as this mean a lot to Vicky and her family but, as she puts it, they are not the best thing about running a business such as theirs.
"It's talking to people and enjoying their company," she says. "I love people and I love meeting people."
No doubt it is this hospitality and generosity that will see the Vasarelli's continue in their success.