On Monday December 15, less than two weeks before Christmas, Sydney and eventually the rest of the world held its collective breath as what appeared to be brutal terrorism hit Australian shores.  Self-proclaimed sheik Man Haron Monis, who was disowned by Australia's Muslim community in 2008 and declared not to be a genuine religious leader, was out on bail on charge of being an accessory to murder and was facing nearly 50 sexual assault charges against a number of women.  On a day many Australians will not forget this Iranian-born extremist, who fled Iran because of his opposition to the Iranian regime, challenged the very meaning of safety and security within the city of Sydney.
As hostages trickled out from the Lindt Café in Martin Place throughout the day, with looks of terror etched across their faces, there was still hope that the resolution would be peaceful. But in the early hours of Tuesday morning, minutes after more hostages ran into the arms of police and towards freedom, police were forced to end the siege in rounds of gunfire that lasted 38 seconds. Lindt Café manager Tori Johnson, who reportedly attempted to wrest the weapon from Monis just before the siege ended, and mother-of-three Katrina Dawson, who reportedly was protecting her pregnant friend with whom she had gone to get a morning coffee, were tragically lost amidst their acts of selfless bravery. Monis was killed, his body removed later on Tuesday behind screens.
Martin Place has since become a symbol of unity as Sydneysiders flock to the scene of this horrific event to lay floral tributes and hand-written letters, drawn by a desire to pay their respects to the two young Australians who died too soon and to publicly mourn what for many represents our loss of innocence.
The makeshift shrine is also a sign of support for the other hostages who are burdened with horrific memories. City florists have struggled to fill the demand as the sea of flowers continues to spread throughout the popular tourism and business district.
But while the spectre of these traumatic events threatens to haunt not only the friends and family of the hostages but also all Australians and the rest of the world, glimmers of humanity began to shine through the darkness.
Social media became the source of solidarity, strength and support for those shaken by the traumatic events and threatened by irrational anger directed against Muslims.Started by Brisbane woman Rachael Jacobs, the hashtag #illridewithyou quickly went viral on Twitter and spread to other forms of social media, such as Facebook and Instagram, as Australians banded together to counter threats of prejudice against their mates.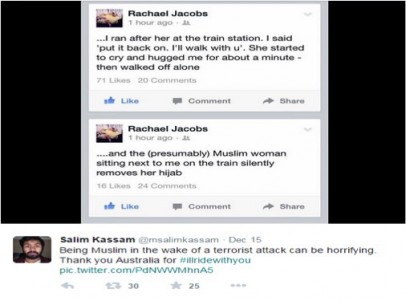 The trend has gained worldwide attention, symbolising the power of the Australian spirit when catalysed by such traumatic and unprecedented violent events. Hundreds of thousands of people have contributed to the movement which is an offer to ride with or give Muslims who fear retribution or attacks while travelling on public transport a lift to work . On Tuesday morning @BBCtrending reported that more than 350,000 tweets had been posted with the #illridewithyou, with numbers now expected to have climbed into the millions.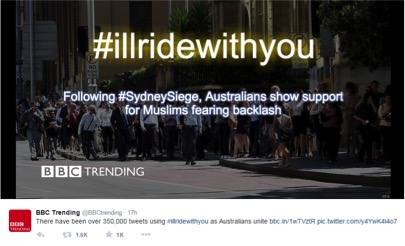 As with any other trend on social media, the hashtag has come under scrutiny by those who label the idea as hollow and a superficial solution to a deep-seated societal problem. But words translated into action yesterday as stories emerged throughout Australia of people following through on the sentiments of comradery shared online.
Twitter user @thomasjohn86 took to Flinders Street in Melbourne to hand out #illridewithyou stickers, with thousands of people queuing for the opportunity to display their involvement with the movement.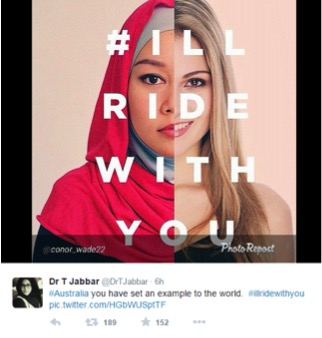 Others spread the message by word of mouth, such as Twitter user @GeeForce77 who conveyed the trend to a Muslim taxi driver in Sydney to both his surprise and delight.
Twitter user @DrTJabbar stated that Australia had "set an example to the world," with many online praising the global use of the hashtag as a galvanising tool for the breakdown of racial and religious prejudices in the face of adversity.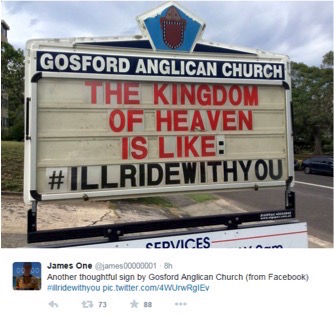 Celebrities, politicians and foreign news outlets also picked up on the trend, spreading the message globally by tweeting their followers and posting messages on their Facebook and Instagram pages. During the Sydney siege social media was not only a platform for breaking information, which accompanied the #sydneysiege, but also a platform for the outpouring of condolences and prayers, with the #prayforSydney and #prayforMartinPlace trending throughout and after the siege.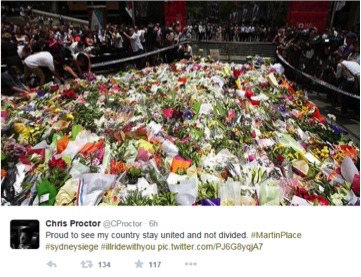 The events in Martin Place precipitated an overflow of raw human emotion that was encapsulated by trends on social media, helping to coalesce and reflect Australian solidarity and mateship. These past few days have witnessed the truest forms of bravery and sacrifice, and the unfailing ability of people to draw on their humanity when others are exposed to harm, whether physical, emotional or ideological. Online these uplifting words of compassion and kindness have proved the resilience and durability of the Australian spirit which is only emboldened by attacks of such a brutal and irrational nature.
The hope is that social media can continue to unite people through genuine desire to help their fellow man, with trends such as #illridewithyou exemplifying the power of humanity to override fear and hate generated by acts of terror.