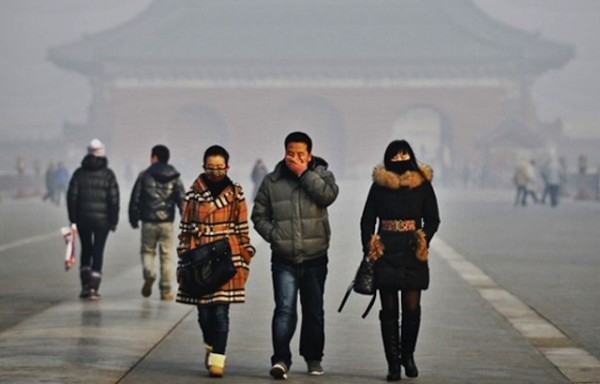 China has paid for its long-term air pollution with an unprecedented haze shrouding Beijing and sparking mass panic over the past three days.
On January 12, the Beijing Municipal Environmental Monitoring Centre (BMEMC) announced that the official measurements of PM2.5 fine particulates had reached 993 micrograms per cubic metre in China's capital.
That level is extremely high compared with World Health Organization (WHO) guidelines of no more than 10 micrograms per cubic metre.
Public fear of the smog level and possible harmful chemicals in the air has led to skyrocketing sales of any kind of mask throughout the city.
The panic buying has created severe mask shortages in the supermarkets and China's biggest online shopping website, Taobao, announced that more than 140,000 masks were sold in Beijing during the last two days.
The director of the environmental monitoring centre, Dawei Zhang, said: "The dense haze results from the high level of air pollutants discharged from the overuse of coal and motor vehicle and the high speed of industrial production."
As part of the emergency response to ease air pollution, the Beijing Municipal Environmental Protection Bureau (BMEPB) has ordered government vehicles off the roads and nearly 58 industries were forced to suspend operation.
According to the BMEPB, although Bejing is the worst hit most provinces in China are suffering from the hazardous smog.
BMEPB director of the Atmospheric Environment Management Office, Jianhua Yu, said effective measures were urgently needed to reduce pollution discharge.
"Otherwise the haze conditions will happen again in future and will harm the people's health and their normal lives," Mr Yu said.
In the past week, the Beijing Children's Hospital has treated nearly 800 children daily with nebulizer therapy to cure respiratory infection and 60 per cent of the outpatients in the hospital had respiratory illnesses, the Beijing News reported.
Keqiang Li, a member of the Politburo Standing Committee of the Communist Party of China, was reported on website Caijing saying that the air pollution crisis could not be solved in the short term but attempts must begin now.
"While strengthening the implementation of the Environment Protection Law, we will enhance public awareness of protecting citizens' health as well as protecting our environment," Li said.
Beijing's atmospheric conditions had improved by January 15 but the public is still waiting for fresh air.