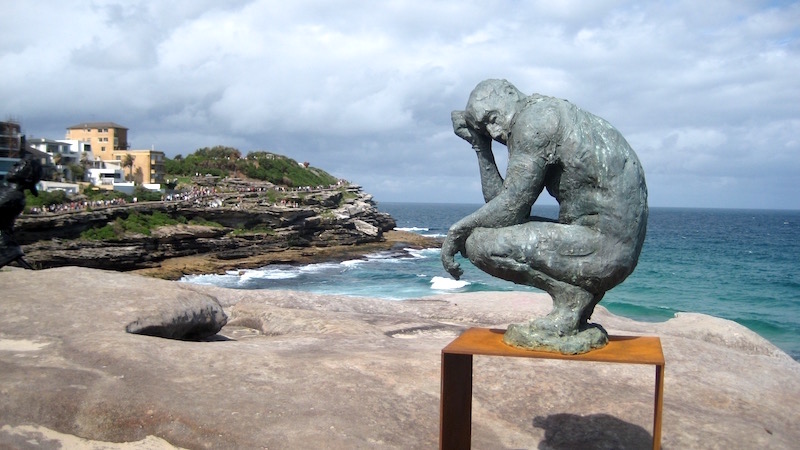 Sculpture by the Sea once again attracted thousands of art lovers to the Bondi to Tamarama free event from October 22 to November 8.
The winner of this year's $60, 000 Macquarie Group Sculpture Prize was German artist Jörg Plickat with his work Divided Planet, as announced at the launch of the exhibition. Plickat's sculpture will be gifted for permanent public placement at Headland Park, Georges Heights, where it will join sculptures by previous recipients of the prize.
Prime Minister Malcolm Turnbull was also present to announce Kim Perrier as the winner of the 2015 Allen's People Choice Prize for his sculpture Ashes to Ashes.
Other winners include, Melbourne's RCM Collective of the 2015 Kid's Choice Prize for their work The Bottles, and David Horton of the Art Gallery Society of NSW prize for his work Yesternight.
Almost two decades after its humble beginnings, Sculpture by the Sea has become Australia's largest outdoor sculpture exhibition, spreading across the country and across the globe.

The two-kilometre coastal walk from Tamarama to Bondi, the setting for the exhibition, drew crowds of up to half a million people. It has evolved from a one-day event in 1997 at Bondi to a multi-million dollar event now held at Cottesloe in Western Australia and Aarthus in Denmark.
Over 100 artists, both local and international, participate each year. There were 500 submissions for the exhibition this year, from 41 countries and six territories around the world. They include sculptors from Canada, South America and Thailand.
Sydney artist Margarita Sampson marvels at the growing popularity of the annual event.
"I've watched Sculpture by the Sea grow from a single day event that was hatched in David Handley's lounge-room to an international event," she said. "It was a lucky break that a sculpture show came along which fit my sensibilities."
Sampson's contribution to this year's Sculpture by the Sea is named Voyager. In her artwork she references the space probes that were sent out into deep space in the 1970s. Sampson said that above all she wants the audience to experience her artwork.
"I'd like people to want to spend time with them, spend time teasing out some of the complexities and allusions I'm hoping the works hold for them," she said.
"I'd be happy if people ate their lunch in the shade next to them, if they felt sheltered by them, wanted to talk about them with their friends. Last year people felt moved to hug my work. That made me really happy."
Sampson completed her degree at the College of Fine Arts (COFA) in painting, but then moved into sculpture for the first Sculpture by the Sea exhibition in 1997.
"I wanted to make something that you could respond to with your senses, not just your eyes," she said.
To award those artists for committing their time and effort to the exhibition for 10 years, Sculpture by the Sea has created a 'Decade Club.' Sampson became a Decade Club member this year.
"I worry that the public take it for granted and don't think about the enormous effort put in by the artists and organisers every year," she said.
Sampson said she enjoys meeting people who don't feel comfortable in a gallery, but are able to engage with the sculptures in an outdoor setting.
"I love the fact that there is a generation of kids now who have grown up with it as part of their year, who have been exposed to all this wonderful artwork and are conversant with it," she said.
The 19th Sculpture by the Sea exhibition in Bondi is a free event that was open to the public 24 hours between October 22 and November 8.