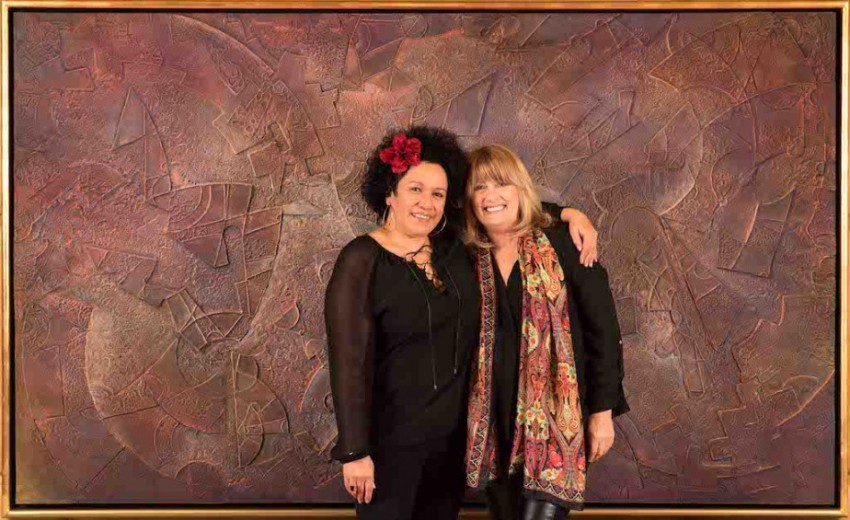 The powerhouse duo of Vika Bull and Debra Byrne will perform Tapestry: The Songs of Carole King at the Enmore Theatre on February 10 and at Anita's Theatre, Thirroul on February 11.
These two much-loved Australian vocalists celebrated the 45th birthday of King's hit album Tapestry, along with The Brille Band, in three sold-out shows at the Arts Centre Melbourne in August last year.
Now it's Sydney's turn to enjoy this remarkable concert, a homage to the famous singer/songwriter who has penned many hits during her long and successful career.
The album Tapestry, released in 1971, went to No.1 on the Billboard 200 chart and stayed there for 15 weeks. It sold more than 25 million copies worldwide making it one of the best selling albums of all time and is considered one of the most important pop albums of the 20th century.
The concert's song list includes such classics as "I feel the Earth move", "You've got a friend", "You make me feel like a natural woman", "It's too late" and "Will you love me tomorrow".
The show is from the producer/director of the smash-hit concert At Last: the Etta James Story which also stars Vika Bull and has been playing to packed houses for three years, and still going strong.
Will Tapestry have similar success?
"I don't know. You never know these things. With Etta I thought it would be only one show. People seem to like the combination of Deb and me so who knows," Bull said. "If people like it and keep coming back, we'll keep doing it."
The soul, gospel, blues and country singer of Tongan ancestry has delighted audiences with her powerful voice for 25 years and came to prominence with the Black Sorrows in the late 1980s. She has eight albums under her belt with her sister Linda and has performed with Paul Kelly, Tim Finn, Hunters and Collectors, John Farnham, Kasey Chambers, John Butler and Dan Sultan.
She shares the stage with Debra Byrne, an Australian music icon and one of the six original team members of Young Talent Time. Byrne has been recognised with a Logie and a Queen of Pop award and has wowed audiences with her roles in Cats, Les Miserables, and Sunset Boulevarde. She also recently starred as Judy Moran in Fat Tony and Co.
Although very different as vocalists, the pairing works well according to Bull.
"Deb and I get on great. I've known her for a long time but this is the first time we've worked together and it works," she said. "We harmonise really well too. She's a joy to sing with and has helped me become a better singer."
Byrne, a lifelong fan of Carole King, sings the ballads and brings a lot of stage and acting experience to the show.
"Deb's taught me different things about stagecraft – with her musical theatre background she's very good at that," Bull said.
"The songs are pretty challenging for me as Carole King does a lot of ballads which is not really me but I've become a lot more confident with that style. They're not hard songs to sing but being a more mature singer I can sing them better than when I was younger. It's something I really enjoy doing and it's been a surprise to me."
Bull is a recent convert to the magic of Carole King but her passion for the songs of the iconic singer/songwriter is no less enthusiastic."She wasn't one of my favourite singers but she has become one since I did the show," she said. "This woman is incredible and I've become a massive fan."
Bull points out that King, a prolific songwriter, has penned many songs that have become hits for other singers, for example Kylie Minogue's first hit "The Loco-motion".
"I really admire her because you say 'Oh my God, did you write that too?'"
In the show Bull and Byrne aim for a 1970s vibe in dress code and talk about the songs they are singing.
"We talk about how the songs were written, about the Brille building where many of them were created, about what Carole King meant to us, especially Deb who lists Carole King and James Taylor as her main musical inspirations," she said.
"It's a laid back concert but very enjoyable. Deb takes everyone on a bit of a journey. Tapestry really means a lot to her. She has had a lot to do with putting the show together. She's an old fan, I'm a new fan."
This new fan has chosen to sing the Aretha Franklin version of "Natural Woman", which she prefers, but revels in singing the Carole King version of "Rain until September", which she loves.
Catch Tapestry: The Songs of Carole King at the Enmore Theatre in Newtown at 8pm on February 10 and Anita's Theatre, Thirroul on February 11. Bookings: www.ticketek.com.au | 132 849 and www.ticketmaster.com.au | 136 100