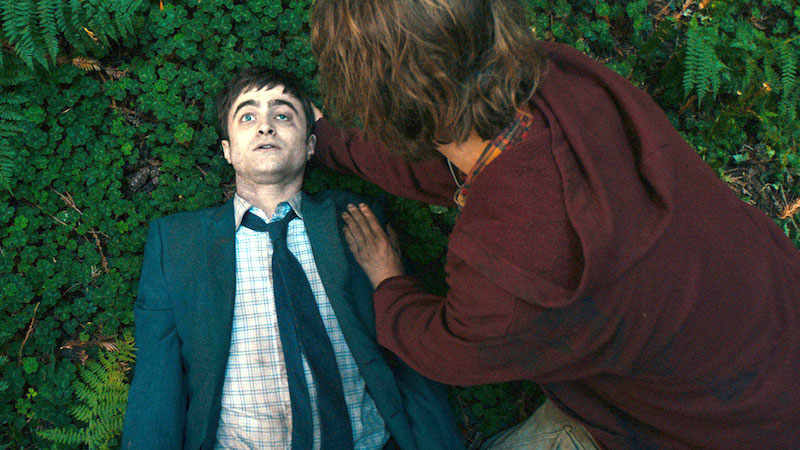 Making it's Australian debut at the Sydney Film Festival, dark comedy Swiss Army Man will appease audiences who enjoyed the Tom Hanks drama Cast Away, but thought it lacked a solid serving of bodily function gags.
Set on a deserted island in the Pacific Ocean, the debut feature from Daniel Scheinert and Dan Kwan follows a bearded loner named Hank (Paul Dano), who, in the opening scene, decides to end his life.
But—ahoy!— a lifeline for Hank suddenly washes up on the shore. Enter Manny (Daniel Radcliffe), a bloated, blue-lipped corpse who is visibly dead, but boasts a very lively gut. As Hank realises, this flatulence-filled corpse is his ticket off the island, inspiring a grossly funny sequence with a mock jet ski and a tonne of gas. It's no wonder the film prompted walkouts at Sundance.
With his new friend curled around his frame like a backpack, Hank traipses through the wilderness of the mainland in search of civilisation. The odd-couple encounter bears, river crossings and a healthy measure of existential dread, all beautifully captured by Larkin Seiple's cinematography.
During their travels, Hank delivers important life lessons: how language works, the etiquette of riding the bus, and what's beneath the swimsuits of Sports Illustrated models. In return, Manny doubles as a multi-purpose tool—a 'Swiss army man'—who serves as a water fountain, a woodchopper, a flamethrower and a "special" compass (hint: the needle is in his trousers).
Brimming in originality but lean on story, this two hander is made possible by the commitment of the two impeccable leads. Radcliffe is no stranger to physical comedy; see his tremendous turn in the BBC series A Young Doctor's Notebook, now streaming on Netflix. The former boy wizard flops his body around with the elasticity of Gumby and brings a sweetness to even the crudest masturbation jokes.
As a Cast Away 2.0, Dano has the everyman appeal of Tom Hanks, but taps into something a little stranger. His wide, expressive face helps map Hank's journey from a lovelorn boy to a man reinvested in life. Mary Elizabeth Winstead rounds out the cast as Sarah, the girl of both Hank and Manny's dreams.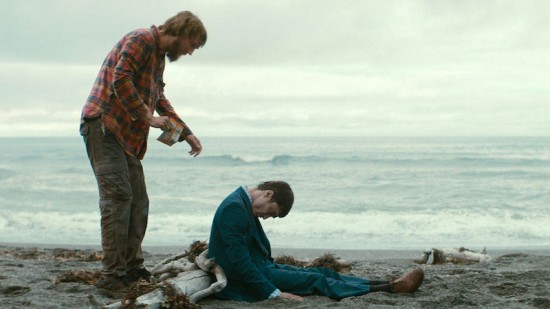 Swiss Army Man's score is a highlight, which comes as no surprise considering the filmmakers' history making music videos (the duo is behind the insanity of DJ Snake and Lil Jon's Turn Down for What). Sometimes melancholic, other times jubilant and poppy, these lush sounds by Andy Hull and Robert McDowell of Manchester Orchestra—with Dano and Radcliffe's vocals—are a fine addition to the film's many montages.
Some viewers may literally turn up their nose at the fart jokes and masturbation riffs in Swiss Army Knife. But if we can't laugh at these base functions, how can we laugh in the face of death? Plus, the film goes beyond the juvenile dick-jokery of features like Superbad and ventures into darker existential territory, reminiscent of the FX show Wilfred. Is reanimated Manny real, or just a hallucination? And, as Manny proposes, does their quest to return to civilisation really matter if you can't openly pass wind in public?
This original comedy will continue to polarise crowds, and it certainly warrants a view if only to see how the filmmakers bring new life to the phrase "put a cork in it".