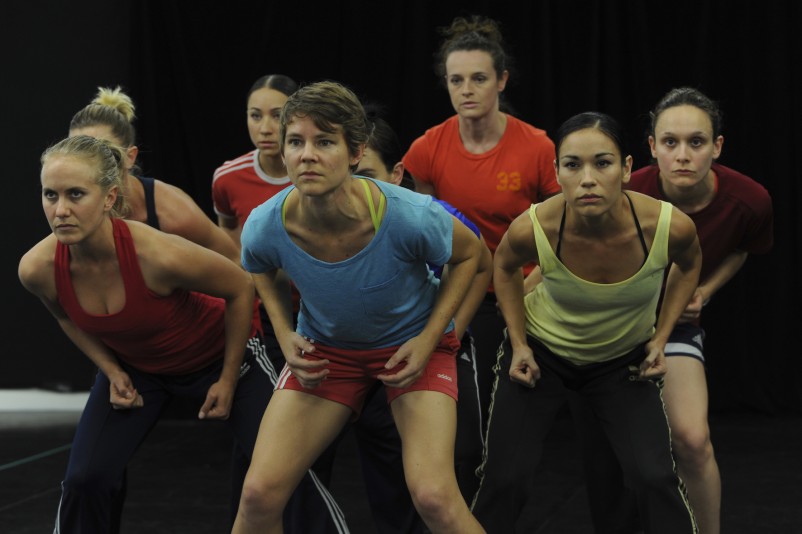 What do you get when you mix the passion, 'do or die' determination and team spirit of sport with the artistic creativity of dance?
We're about to find out when Champions, a genre-defying new Australian dance work directed by choreographer Martin del Amo, has its world premiere on January 17 at Carriageworks.
Presented by FORM Dance Projects and the Sydney Festival, Champions features an all-female "team" of 11 contemporary dancers in an adrenaline-fuelled choreographic match that draws formerly unexplored parallels between football and contemporary dance as it delves into the fundamentals of athletic and artistic performance.
Under the direction of Del Amo, one of Australia's most innovative independent choreographers,  Champions celebrates the talents of elite performers and harnesses the energy and enthusiasm of sports fans.
"I was excited to create a work integrating football and dance. I'm an artist but also someone who follows sport," Del Amo said.
"With soccer there's a similarity in how one trains – the use and aim may be different but there's a physical rigour, rhythm and strategy."
The concept evolved and when Del Amo watched the Wanderers' grand final match at Pirtek Stadium he was struck by the level of excitement and engagement, and intrigued by sport's ability to attract audiences and completely enthrall its lifelong loyal fans.
"I look jealously at contemporary dance and wonder 'how can they do that?' I was at Pirtek Stadium and the excitement that kind of match generates led us to the idea that what makes it so attractive is that it's accessible and easy to understand.
"It is all about winning and losing so there is a binary black and white way of looking at things, but that is because the stakes are very high, both for the athletes and the fans. It's triumph or devastation.
"Sport, through its black and white focus generates that emotional intensity which can be very hard to create in the arts – the stakes are not high enough."
For Del Amo, it has been inspiring to frame a piece of art in a different way taking into account this intense "live or die" motivation.
"We as artists are not tied to that binary parameter and can inject different layers but it's interesting to flirt with that intense sporting sentiment. We push it into a slightly different frame."
Del Amo has always been surprised at the rift between the football camp on one side and the dance camp on the other.
"Do the similarities between the two not outweigh their differences? After all, both strongly rely on physical skills, rigorous training, a sense of rhythm and an understanding of performance, strategy and team spirit," he said.
But Champions does not attempt to emulate sport; it  plays with the notion and how to present it. Choreographic inspiration for the work derives from a highly physical set of soccer drills, tactics studies, pre-game warm up rituals, on-field victory dances and the performative experience of triumph and defeat.
"Originally the idea was having a cast of dancers and athletes but we hadn't decided who the athletes would be. I wanted gender parity," he said.
What he ended up with is a powerful all-female cast in a work that challenges long-held expectations of who qualifies as dance/sports 'champions' in a culture that underpays and generally underappreciates the achievements of female performers, both in sports and in the arts.
Del Amo explained that when he was commissioned to create the work he made a wish list of people he'd worked with previously and wanted to work with again, and dancers he'd always wanted to work with. Looking at his list he realised the six or seven names were all women.
"At that point it made more sense to make it all women," he said. "Then you start to think about the politics of the work. This is a very exciting idea of having all women in the cast because it challenges expectations of who can be champions."
As part of their research for the work, del Amo and the dancers attended a series of training sessions with The Western Sydney Wanderers W-League and consulted with coaches, physiotherapists and athletes. Regular training sessions were held by footballer and performer Ahilan Ratnamohan to fuel a strongly football-inspired movement vocabulary.
Associate artist Miranda Wheen and Del Amo spoke with the head coach of the Wanderers women's team, and executive producer Annette McLernon thought it a good idea to speak with the Matildas who were in Sydney.
What they discovered from the female athletes was a mix of pride in their own achievements and surprise at the strength of fans' support, but disappointment at how none of them could financially be full time athletes.
"Three Matildas came in and spoke about the reality of being an elite athlete in Australia and the incredible inequality in payment and status here between men and women," Del Amo said.
"It constantly throws them into a situation like the World Cup, which is a three-month commitment, where they have to resign from their jobs. Sometimes there's a job there for them when they come back and sometimes there isn't."
And the gender gap in remuneration per game is astonishing: $500 per game for a Matilda; $6500 for male soccer players. That is despite the fact that the Matildas ranked 9th in the world and the Socceroos ranked 61st last year.
Del Amo and the dancers are joined in the creation of this this large-scale dance work by a team of artistic collaborators, all acclaimed in their respective fields.
A lot of the passion in sport also has to do with the lead up and the post analysis, del Amo said, so production also combines pre-show analysis, backstage interviews and running commentary from Channel Seven sports presenter, Mel McLaughlin.
Music and dance always go together and although it was tempting to use the many famous pop songs appropriated by certain clubs, the production opted for an original soundtrack written by Gail Priest, a key collaborator on previous productions.
"This is our reunion and it's exciting to work with her again," del Amo said.
"It's about recreating the atmosphere, cheering, chanting, drums, commentary – a cacophony of sounds and rhythms to hype up the audience."
Del Amo said the work promises audiences a show that is presented as a sporting event, which is a fairly unusual proposition.
"What we're trying to do is playfully challenge audience expectations. It's a serious investigation but with a light touch and some humour. This is a work that can attract audiences beyond dance aficionados and tap into a popular pulse. It's creating its own reality, a reality that doesn't yet exist."
Where: Bay 17, Carriageworks – 245 Wilson St, Eveleigh
When: 17 to 21 January at 8pm; 21 and 22 January at 2pm
Tickets: $41 | Conc $37 + transaction fees. Available from Sydney Festival on 1300 856 876
Web: www.sydneyfestival.org.au/2017/champions