Daniel Boyd and electro duo Canyons are collaborating at the Sydney Festival with 100 Million Nights.
The first sign that Daniel Boyd is an artist is his sneakers, which are a Pollock-like palette of splattered paint. Looking down at his shoes, clutching a coffee, he smiles at his handiwork, created from painting a series of exhibitions that have placed him among Australia's most collectable contemporary artists.
His most recent work 100 Million Nights, however, doesn't have a drip factor. Boyd has collaborated with dance electronic duo, Canyons (Ryan Grieve and Leo Thomson) to produce the audiovisual work 100 Million Nights, which will be shown at the Sydney Opera House for the Sydney Festival.
During the performance, Canyons will play their "emotional response" live to Daniel's three-panel moving image work that will be screened behind them on the stage. The resulting collaboration is an atmospheric space of sounds and constellations.
Canyons describe 100 Million Nights as a "creative side step". While they have previously collaborated with Tame Impala and Pond under the label Hole in the Sky (H.I.T.S), Boyd is the first visual artist with whom they have collaborated.
"It is an audiovisual experience combining Daniel's moving images to a score performed by us. The inspiration is time passing," says Leo Thomson. "We gain and lose as time evolves and we've drawn on this as the inspiration."
"We wanted to write it live," adds Ryan Grieve. "So we did a live setting to create an immediate energy rather than write it on a computer and labour over every detail. We wanted to capture the essence of what was happening in that moment."
Grieve adds that one of the most interesting things about Boyd's work is that it is bold but subtle. "He hits a chord with what he's saying. We had to be careful not get lost in it. It's mesmerising and hypnotic."
Boyd first met the Western Australian musicians through friends and asked them to write a score for the video installation, A Darker Shade of Dark, at his exhibition New Hebrides at Roslyn Oxley 9 Gallery.
"A Darker Shade of Dark is about time and memory…about our comprehension of the past, and not being able to fully comprehend our future," Boyd says. "It was just before the discovery of the 'God particle' [Higgs Boson particle] by the Hadron Collider. And not being able to see that, but knowing that it is there, intrigued me. I saw Dark Matter as a metaphor for comprehension.
"It's really nice to bounce ideas with Canyons and collaborate. It wasn't challenging as I'm not so precious. The tracks are atmospheric and layered and it is beautiful to work on that level and take it to another place."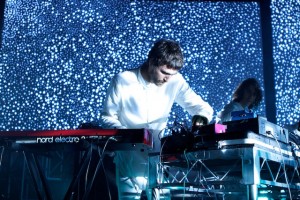 Canyons and Boyd showed their next collaboration, 100 Million Nights, at the Melbourne Music Festival and at MONA, the Museum of Old and New Art, Hobart. Now Boyd is excited to see it at the Sydney Opera House, a building he has loved since first seeing pictures of it growing up in Cairns.
As he talks, gallery staff are drilling into the walls to mount one of his New Hebrides exhibition paintings, a black and white subversion of a famous Paul Gauguin work. He sips his coffee, contemplating his art. He talks slowly and thoughtfully, reaching into his artist statements and creative process to explain the ideas behind his works in the stock room of Roslyn Oxley 9, Paddington.
Boyd has covered the work in transparent dots, which he says represent a "cultural lens from multiple perspectives in which to view things," rather than a nod to his Indigenous heritage of the Kudjila/Gangalu people and Indigenous art. While he shares one of the most famous names in Australian art he is unrelated to Arthur Boyd.
"I didn't grow up with traditional cultural practice but I was inspired by the lushness of the colours and the forms of the Cairns landscape," Boyd remembers. " As a child I drew the grand masters and my family and art teachers encouraged me to apply for art school. I was also into sport, playing semi-professional basketball and rugby.
"After school, I went to the Australian National University to study art. It was culture shock. I became interested in the weight of colonial paintings in Australia and the importance placed on them, and I began playing with those images." Boyd subverted colonial portraits, including John Webber's portrait of Captain Cook, with piracy images and text, transforming it into Captain No Beard.
He placed a self-portrait of his head in a jar in another in a reference to Indigenous warrior and resistance leader, Pemulwuy, who was decapitated after he was shot and his head sent to England in a jar as a trophy.
"I questioned the romantic notions that surrounded the birth of Australia. It is Eurocentric and it is important to Aboriginal and Torres Strait Islander people to continue to create dialogue from their own perspective to challenge the subjective history that has been created," he explains.
In 2005, his graduating body of work was noticed by Australian National Gallery Senior Curator of Aboriginal and Torres Strait Islander Art, Brenda Croft, who bought selected works from his graduation show, then invited Boyd to be part of the Triennial Cultural Warriors 2007.
"I haven't actually graduated yet," Boyd corrects. "It's a long story. Basically, my lecturers gave me a pass (for that body of work) and the National Gallery bought my work. I think that was hard for them [the lecturers] to take."
Subverting colonialism remains an undercurrent in his ongoing practice. For his first exhibition for Roslyn Oxley 9, Freetown, Boyd looked at colonialism in Africa, painting iconic African animals who are ostensibly free but it is a freedom, he says, that 'is imposed rather than chosen". It's a metaphor for the African experience.
100 Million Nights
Sydney Opera House 21 January 8pm from $49
Book online: 1300856876
W:100milionnights.com
Sydney Festival 9- 26 January
100millionnights.com
 First published in Chrysalis 2014