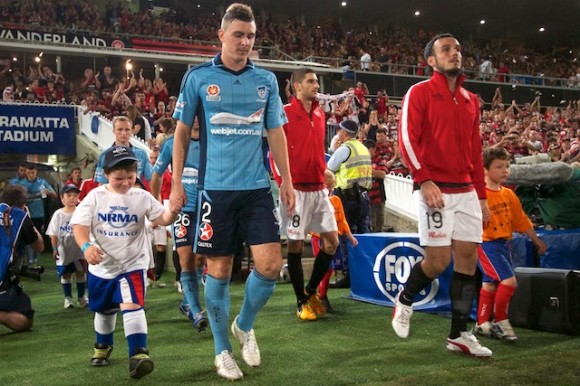 A solid performance by Sydney FC went unrewarded on Saturday night against the Western Sydney Wanderers. The highly anticipated derby against their rivals ended 1-1, which was once again witnessed by a sellout crowd at Parramatta Stadium.
Sydney FC started the game looking stronger in possession of the ball. Joel Griffiths was particularly impressive with his presence being a constant danger to the Western Sydney defence. The Wanderers for their part seemed happy in taking a safer approach to the game, largely due to a changed squad that was forced by a number of missing regulars.
In the 34th minute a wayward pass by Nikolai Topor-Stanley saw Alessandro Del Piero pounce onto a loose ball and create an opening, which he finished with a low strike past keeper Ante Covic for his 13th goal of the season. Sydney FC continued to have more control of the ball for the remainder of the half.
The second half started with Sydney FC continuing to dominate in possession. But two yellow cards in three minutes saw the game change as the Sky Blues were brought down to 10 players with Brett Emerton being sent off. The numerical advantage allowed the Wanderers a chance to get back into the contest.
In the 69th minute, a foul just outside the Sydney FC box allowed Shannon Cole to expose his former team mates through a trademark free kick. Cole's execution was allowed to make its way past the defensive wall and into the back of the net to make it 1-1.
The game continued to be played in an intense and scrappy manner, but failed to see any more goals. An elbow to Terry Anonis' face from Iacopo La Rocca was the most notable incident for the remainder of the game. The Italian import will now miss out on playing in the grand final, if the Wanderers manage to make it through suspension.
Western Sydney Wanderers 1 (Shannon Cole 69′)
Sydney FC 1 (Alessandro Del Piero 34′)
Man of the match: Shannon Cole 
Crowd: 19,585