Baz Luhrmann sauntered into the rehearsal room at Carriageworks on February 25 quipping over his shoulder " I thought you said a couple of friends Bruce".
The joke was aimed at his publicist Bruce Pollack but the real targets were the close to 100 journalists assembled to catch a sneak preview of Strictly Ballroom the Musical which previews from tonight at Sydney Lyric Theatre, The Star and opens on April 12.
At this exclusive first view when the media was given the opportunity to watch Luhrmann in rehearsal, the renowned director announced the eminent composers he and co-writer Craig Pearce have collaborated with to bring Strictly Ballroom the Musical to life on stage.
Australian audiences will have the privilege of hearing new music and lyrics from some of the world's leading composers including Australia's own Elliott Wheeler, Sia Furler and Eddie Perfect along with celebrated American songwriters David Foster and Diane Warren, who between them have won all the most prestigious music awards including Golden Globe, Emmy and Grammy Awards.
Luhrmann said he was particularly thrilled to again be working with Wheeler, an acclaimed Sydney-based music producer and composer with whom he has worked on many projects including a worldwide campaign for Australian Tourism and most recently The Great Gatsby.  Wheeler has composed a number of new songs for the production and much of the linking music and arrangements.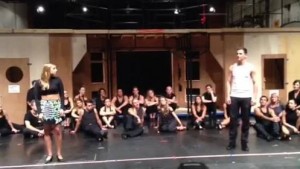 And an impressive cast of Australian actors has been assembled to play the iconic roles in this stage version of the popular film, including Newtown School of Performing Arts graduate Phoebe Panaretos to play Fran, 20-year-old Thomas Lacey in the role of Scott Hastings, Bob Baines as Les Kendall, Drew Forsythe as Doug Hastings, Natalie Gamsu as Ya Ya, Robert Grubb as Barry Fife, Fernando Mira as Rico, Heather Mitchell as Shirley Hastings and Mark Owen-Taylor as JJ Silvers.
Unbeknownst to the media, at the back of the room watching the rehearsal was also Luhrmann's wife Catherine Martin, who this year had been nominated for two Oscars for her designs for The Great Gatsby. Martin went on to win both best costumes and best production design with set decorator Beverley Dunn, becoming Australia's most prolific Academy Award winner. She had previously won two Oscars for Moulin Rouge in 2002 as well as nominations for Romeo + Juliet and Australia. But Martin made her escape before she was pounced on by the media scrum.
But Martin's acclaimed work can now be viewed at the Powerhouse Museum which is presenting The Strictly Ballroom Story, a new exhibition opening on April 5. The exhibition celebrates the sequinned splendour of the hit stage and screen musical and tells the Strictly Ballroom story through design drawings, cast and set photos, performance and rehearsal clips. A highlight is 40 dazzling original costumes created by the Oscar winner which played a critical role in creating the larger than life quality of the film.
Strictly Ballroom the Musical opens at the Sydney Lyric Theatre, The Star on April 12. Tickets now on sale until Sunday June 29 through Ticketmaster.com.au or 1300 795 267 or showbiz.com.au/strictlyballroom