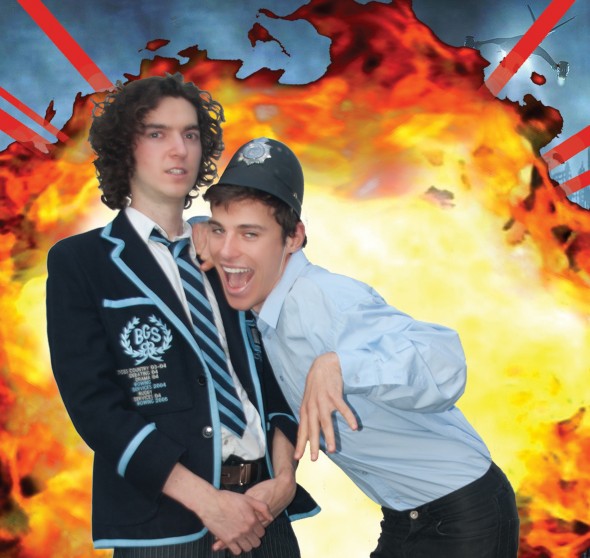 Fresh and feisty new comedies featuring Springboard winners Amelia Ryan and duo Justin Locke and Jordan Shanks will debut this Saturday night as part of the Sydney Fringe Festival.
Amelia Ryan's exhilarating straight-from-the-shoulder comedy cabaret Amelia Ryan is a Storm in a D-Cup will entertain Fringe-lovers from September 22 to 29 at The Supper Club in Darlinghurst, kicking off its shiny heels at 9pm.
The cabaret, which she wrote 15 months ago and has performed around Australia ever since, regales audiences with Amelia's uncensored stories of growing up with a gay father and a transsexual stepmother. Added to an amusing and colourful life of calamitous mishaps, Amelia can tick 'exotic dancer' off on her list of credentials.
But the exuberant performer says she has nothing to hide.
"It's an upbringing I've grown to appreciate and celebrate. I believe truth and self-expression is liberation and being able to talk and write about my life candidly, with a good dose of humour."
The process of writing her shows is what juices Amelia creatively. She'll twist popular songs into hip parodies readapting the song's message to make it her own.
A creative debt to the constructive tutelage of cabaret and musical theatre genius Trevor Ashley (Hairspray, Fat Swan, Diamonds are for Trevor) and Luckiest Productions (David Campbell on Broadway, Britney Spears; The Cabaret) is acknowledged gratefully.
The other Fringe Springboard winners, Bondi boys Justin Locke and Jordan Shanks, bring a totally new kind of comedy to the spotlight with Steve: Two Sugars Thanks, I've Had a Bad Day  at the Fusebox, The Factory Theatre in Marrickville from Saturday September 22 at 9pm.
Jordan, who has been passionate about comedy performance for six years, describes the show as a "verbal version of Lano and Woodley". Justin and Jordan have been heavily influenced by Colin Lane (Lano), one half of the very successful comedy act that has wooed Australia and won the prestigious Edinburgh Fringe Perrier Comedy Award. Lane has recently mentored the duo and infused Jordan and Justin's brand of comedy with insightful and inspiring comedic tips.
Jordan says the most useful lesson they learned from Lane is the philosophy of embracing mistakes in the public spotlight as a way to make people laugh.
"Colin is fascinating the way he sets up situations, like TV interviews, Youtube clips and shows, and ingeniously makes them go wrong on purpose."
The duo has been together since 2009 and is only now going professional, performing also at other festivals including next year's Sydney Comedy Festival.
"Over the last two years we have purposely  taken our time coming into the spotlight in order to hone and develop our own unique style of comedy," Jordan says.
More information at http://2012.sydneyfringe.com/