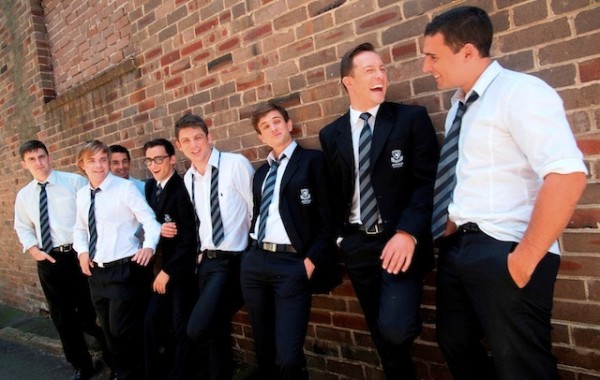 Alan Bennett's hit comedy The History Boys will be performed at the Sydney Opera House from February 8 to March 2.
The thought-provoking play has played to sold-out houses worldwide and won many awards, including the 2005 Laurence Olivier Award for Best New Play and the 2006 Tony Award for Best Play. It was also turned into a feature film.
Set in a fictional boys' grammar school in the north of England in the early 1980s, the play follows a group of history pupils preparing for the Oxford and Cambridge entrance exams under the guidance of three teachers – Hector, Irwin and Lintott.
Acting veteran John Wood plays Hector, a teacher of considerable intellect, enthusiasm and flair trying to guide eight bright but unruly boys who are entirely focused on sex, sport, and getting into a good university (in that order).
Paul Goddard (The Matrix) plays the headmaster, a man whose stuffy sensibilities contrast with Hector's eccentric teaching style.
Heather Mitchell is the sharp-witted history teacher Mrs Lintott who has been at the same private school for too long.
Jesse Peach, founder and artistic director of the Peach Theatre Company, directs this witty high-energy production.
Since founding the Peach Theatre Company in 2005, he has directed Death of a Salesman, The History Boys, Othello, A View From The Bridge, Sweeney Todd, Blood Brothers, Equus, Niu Sila, Billy Liar, The Wizard Of Oz and The Glass Menagerie.
Peach directed The History Boys in Auckland four years ago, a production that was praised for its vibrant, youthful energy.
After coming to Australia last year he restarted his company here and is now staging the new production of The History Boys.
"I was very happy with the NZ production of The History Boys four years ago but a lot has changed in that time and it feels like a completely different play now," Peach said.
"It now has a completely Australian cast. Every time you do a play it's bound to be different because each actor brings something new and different to the role."
Also, Peach was 25 then – he is 29 now and many things have changed, including his experiences as a director. But his attitude to the play and his appreciation of it remain the same.
"My understanding of stagecraft has matured and I probably have a lot more confidence in what I'm doing. You never stop learning and growing. Since the last production of this play I've worked with lots of interesting artists and that's changed me."
A working journalist with a degree in communication from the Auckland University of Technology, Peach sees a connection between journalism and theatre.
"Both are about telling a story in a concise and entertaining way. Journalism is stimulating and interesting but my true passion is theatre."
The young director describes The History Boys as very funny and moving.
"This play has everything. It really touches people. Audiences will laugh a lot and find it quite moving. They'll have fun but also be challenged," he said.
"I think people relate to it because they all remember what it's like to be a teenager. And the language is just beautiful."
Peach is also very happy with the cast, especially veteran actor John Wood who he describes as an inspiration.
"He's one of the best in the business and there's so much to learn from someone like him. The dynamic between him and the rest of the cast is great. There's such a wonderful mesh of experience and age."
The History Boys is at the Playhouse, Sydney Opera House from February 8 to March 12.  Get a behind the scenes glimpse of rehearsals.
Bookings: 9250 7777 sydneyoperahouse.com More information www.historyboys.com.au or www.peachtheatrecompany.com.au