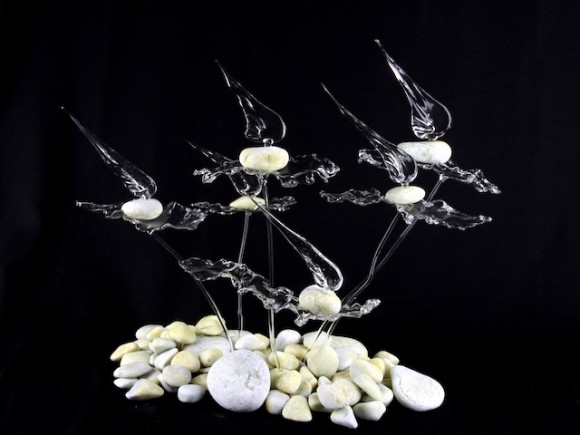 More than fifty sculptures are on display at the Darling Park Building as part of the Sculptors Society (juried) exhibition until the end of this month.
The Society holds four to five exhibitions in Sydney each year to promote the work of its 300 members across the state: in September the exhibition will be in Australia Square and in October it will be in the MLC Building.
The exhibition opened on July 30 when sculptor Paul Trefry was awarded the Franco Belgiorno-Nettis Transfield Holdings Prize of $2000 for his sculpture of an old woman at a bus stop titled Gladis always knew Arthur was late.
Among the other sculptors selected to exhibit at Darling Park is artist Carmel Mollison whose 'windsical' sculpture Flightie was inspired by music.
"I try to transform how music makes me feel, what it communicates to me.  Visually I transpose this emotion," Mollison said.
"Flightie is an uplifting piece – positive and playful – a flight of fancy on the fly; however by its very nature it is very delicate and precarious.
"Sometimes you don't feel so on top of things, or feel unnervingly balanced on the edge, but we put on our mystery wings; like sails they hold us up, catch the wind and gust us along.  Then these crazy rapids of life become thrilling and fun (again)."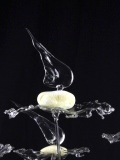 Mollison has been playing with glass for some time now, but it was only after an inspiring three weeks at the Pilchuck International Glass School, embedded in the pine covered mountains just out of Seattle, that she returned to sculpture.
Her part scholarship to study glass flamework techniques and bronze casting with Masami Koda and Lee Campbell (Pratt Fine Arts Centre) introduced her to new freedoms in using glass and other materials.
"Working with glass is technically demanding and resource intensive. It requires dedication to achieve proficiency in glass working skills, and it is then another task to avoid obsession with the pure technique as much as it is a challenge not to be seduced and controlled by its qualities," Mollison explained.
The playfulness and looseness of Flightie reflects her achievement in overcoming both challenges.  With this work Mollison has captured fluidity and movement with a most rigid and unforgiving medium.
After spending May at the Wagga Regional Gallery, Flightie is now on show in the Foyer, Market and Sussex Street Entrance, Darling Park Building until August 30. The exhibition is open from 8am-6pm daily and Carmel Mollison will be there to chat with you from 10:30am to 3pm on Friday August 23.