On Thursday, September 18, Scottish residents will fill the polling stations to have their say on whether Scotland should become an independent country, breaking away from the United Kingdom and a unification it's had with England since the 18th Century.
As the long awaited referendum draws nearer the outcome becomes ever harder to call.
Both campaigns for and against the split have been rallying furiously in an attempt to secure precious votes. Two of the country's leading polls suggest a 54 per cent/46 per cent split, each favouring either the Yes Scotland campaign or Alistair Darling's Better Together campaign.
As an Englishman my thoughts of an independent Scotland initially went to the minor implications: separate Olympic teams; the possibility of a new Union Flag; a visit to Scotland finally feeling like a proper trip abroad. I thought of it as the first step in a complete breakup of our union, a union comprised of four very different, unique countries that come under the vague catch-all term "United Kingdom".
But I gradually began to learn more. As one of the top-20 wealthiest countries in the world, an independent Scotland would have more power and funds to create jobs as opposed to having its revenue spent on nuclear weapons by those in Westminster. Additionally the result of private money replacing public funding in England would be budget cuts, spelling bad news for Scotland's NHS. And in political terms they would become ruled by a leader most of Scotland didn't reject!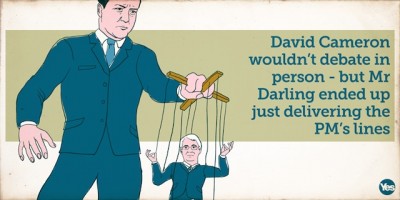 Conversely, the No campaign claims that Scottish taxes would increase without the UK's support to pay off an immediate debt of £6 billion. England and Wales will become more reluctant to trade over a new border due to increased costs. And 600,000 Scottish jobs with companies based elsewhere in the UK or depending on exports will be under threat.
I must admit being surprised by the scale of the Better Together campaign. My previous perception of all Scottish people was that they were too proud of their own nationality to pass on the opportunity for independence. But then perhaps they're as proud as the Yes voters, it's just that they're taking more practical matters in hand with their voting decision.
"That's what they want you to think!" I could almost hear the Yes campaign shout. "They're just spoon feedin' yah titbits of dafty PC shite!" Good grief. With both parties accusing each other of so many lies it's enough to make the undecided Scot just want to hide underneath a blanket.
A study of the newspapers suggests the media is siding with the No campaign.
The Telegraph ran a huge headline "Scottish soldiers lost their lives trying to preserve the United Kingdom" above sombre images of a coffin draped with the Union Flag and soldiers killed by the Provisional IRA in 1971.
In a characteristic angle the Daily Mail highlighted the "online abuse of female unionists" on Twitter and the Labour party's John Reid's claims that the "Scottish nationalists are running a misogynistic campaign". More shit-stirring from them as usual.
From a slightly surreal perspective The Guardian asked if the announcement of a new royal baby will inspire Scots to vote Yes. I'd say it's about as likely to have an effect as an increase in the sales of haggis would have on the rise of immigration.
Even the Scottish papers favoured the argument for a big fat No: The Daily Record focused on how a Yes vote would hit Scottish pockets, and David Cameron's emotional promise to Scotland of more devolved power if the No vote goes through.
The Queen herself urged Scots to "think very carefully" about their decision. Does that faintly suggest any royal qualms?
Actress Emma Thompson summed up how many No voters must feel: "Why insist on building a new border between human beings in an ever-shrinking world where we are still struggling to live alongside each other?"
I'm sure many of the Yes voters are tired of their association with Britain, a term that in many people's mind conjures distinctly English traits. Undoubtedly, Scotland is a country with a good deal of national pride. But unfortunately a lot of vocal opponents have gone one step further to make the clumsy link between the desire for an independent Scotland and xenophobia.
Some very clever language has been used by the No campaign to infuse fear and uncertainty in an attempt to make Yes voters get cold feet at the last minute. Phrases like "no way back" and "last chance to save the UK" suggest it's not worth the risk: why try to roll a 6 when you could very easily roll a 1?
Mentions of the First Minister for Scotland and independence supporter Alex Salmond in Better Together public broadcast videos are accompanied by dramatic, ominous music to give the wee Scottish kiddies nightmares. As journalist Peter Hitchens aptly put it, "if I were Scottish I would vote Yes to spite the people who are trying to frighten and browbeat me into voting No".
An independent Scotland would be a wonderful thing and no Scottish person should have to feel the need to defend themselves for voting Yes. Scotland's government having more control over its own country is a no-brainer. I believe the No vote will have a slight edge – the political power of the UK and the clout of the media is backing the Better Together campaign.  It cunningly presents itself as the "real story" claiming to be giving the Scottish public the "true facts" to counter what many are starting to worry is an impulsive, idealistic Yes campaign.
It's a shame to think the pro-independence movement could fail due to impressionable voters who are too afraid of change.
But alas, however much I'd like a say in the matter I'm unable to vote. Although come Thursday night I'm sure I'll be able to console myself with a deep fried Mars bar in the spirit of it all, watching the results filter through.