Water is an engrossing production whose pace does not let up throughout its 85 interval-free minutes. Its use of multimedia is both inventive and effective, providing a complexity and depth that fills the stage.
A collaborative work, Water brings together the UK's innovative Filter Theatre Company and renowned director David Farr, the associate director of the Royal Shakespeare Company and a former artistic director at London's Lyric Hammersmith.
Water spans two generations, two continents and 26 years, as it explores the depths of interpersonal relations through a battle between two half-brothers – 38-year-old Graham (Ferdy Roberts) and his younger and more successful brother (Oliver Dimsdale) – as they deal with the death of their father, a marine biologist.
A parallel story follows the internal conflict of young political aide Claire (Poppy Miller) as she grapples with issues of climate change on one side of the globe while her neglected lover Joe (Oliver Dimsdale) prepares to dive the world's deepest fresh water cave on the other.
In her relationship Claire's fear of commitment and vulnerability attracts accusations of being dominated by her ego while political machinations get in the way of her attempts to negotiate an agreement on climate change action.
Water is the intrinsic link between the characters; the work begins with a declaration of water as a sociable element: "Most molecules work through repulsion; but not water. Water is a sociable molecule, it loves to mingle." (Peter Johnson, the character who gives voice to radical theories on climate change).
But it soon becomes apparent that humans fail to connect with massive implications for the planet and the human race.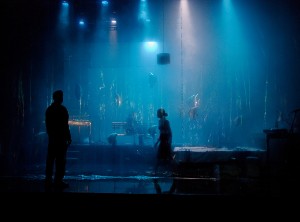 The water motif is maintained throughout with everything from drips to gushes of water culminating in a stunning visual simulation of deep sea ocean (complete with fish).
The strength of the work is due to inventive staging as well as the power of the performances and the stories it presents. Filter declares its aim is to show the mechanics of theatre, to "expose the workings of a production, so that the process is inextricably linked to the performance, the writing, the music and the sound".
And it does this in good measure. The production evokes the early years of radio with all sound effects produced on stage, and video and sound are mixed live on stage by composer Tim Phillips. Lighting designer Jon Clark adds to the richness of the varying moods, aided by the clever use of video and large screens.
Water is all about the compromise of ideals and aspirations as deals are done for practical and very individual reasons. In the end, the constant call for "coming together on this" remains unanswered.
Water:  Created by Filter and David Farr
Dates:  12 – 23 September 2012
Venue:   Sydney Theatre, 22 Hickson Road, Walsh Bay
Tickets:   Box Office: 9250 1777
sydneytheatre.org.au