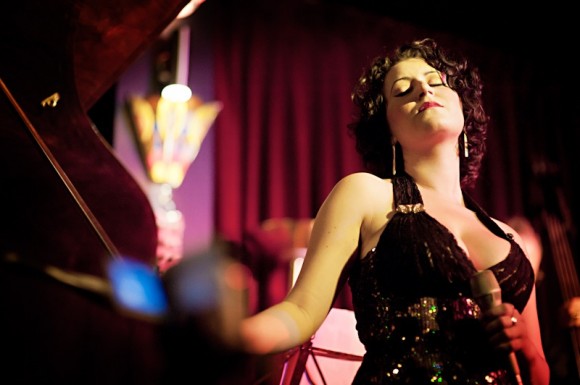 If you're wondering where wandering songstress Miriam Waks has been for the past year and a half, the answer is anywhere but here. Deeply frustrated and consumed with an overwhelming desire to "feel alive", she has been off meditating in India, tangoing in Buenos Aires and scatting her way around the New York jazz scene.
The 25-year-old Sydneysider has travelled far and wide, fallen in love, and collected an impressive array of new songs and stories to add to her already rich repertoire.
Waks' musical identity is an intricate amalgam of her experiences. She takes everything life throws at her and weaves it into a truly captivating live show. And at the wonderfully-kitsch Camelot Lounge on Thursday June 13, the tales of her travels all came together in an intimate celebration of life, love and above all, music.

Songs from the Open Road was dreamed up by Waks to "bring to life" the tales of her travels throughout India, China, England, North America, Ireland, Berlin, Scotland, France, Argentina and Chile.
Her knack for language and inflection is truly enviable. She has been known to sing in a jaw-dropping 14 different languages, all while managing to not sound like "some stupid white girl".
Waks' anecdotes of Argentinian lovers and flings with Frenchmen are time-old but told with her trademark wit and eye for detail. "I did the whole French romance thing," she announced nonchalantly to the packed-out room in Sydney's Marrickville. On stage, she is equally as comfortable singing in Tamil as she is playing the French chanteuse a la Edith Piaf.
Likening songs to people, Waks says that as personal relationships endure, there are certain songs she will be singing till the day she dies. A true artist and interpreter, storyteller Waks ventures far beyond the realm of singer. She sees her role as marrying storytelling, technique and emotion.
"At the end of the day, nothing comes before the story," she says.
Learning the tango music of Argentina, Waks fell in love with the raw emotion and deep respect for the melody. Reflecting on her experiences in South America, Waks considers tango to be about "passion, love – for better or worse – and nostalgia. Tango makes you face who you really are; that scared the shit out of me," she says.
Scatting alongside the legends of the New York jazz scene at the likes of the prestigious Don't Tell Mama's piano bar, Waks learnt that improvisation is "something you have to be fearless about".
As a chameleonic cabaret singer who worships Barbra Streisand and Paul Capsis, Waks tells me she has long had a propensity for singing character songs. "In a sense I think I was running away from something," she says.
Now, she is determined to create her own truths.
Ironically, it was not speaking that allowed Waks to find her voice. Studying Vipassana meditiation – at times in total silence – at the beginning of her trip inspired a newfound ability and confidence in Waks for songwriting.
"On a Late Night Flight" is one such original, and one she shares in her Songs from the Open Road show. Catching up with Waks over tea a few nights later, she plays two more originals for me and it's clear that she has found her voice.
The next stop on the lovely and talented Wak's travels is Melbourne where she will be presenting Songs from the Open Road as part of this year's Melbourne Cabaret Festival before she heads back to New York.
The world really is her stage.
Melbourne dates:
Saturday 6 July 8pm
Sunday 7 July 4pm
Globe Café
Chapel Street,
Melbourne
For tix please visit www.globecafe.com.au