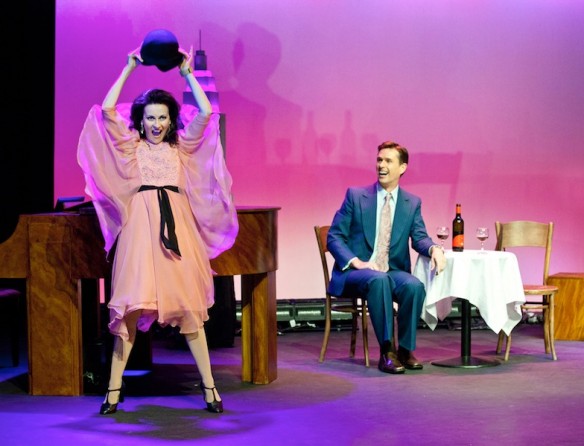 They're playing our song  Theatre Royal, Friday May 3, 2013
The opening song "Fallin" returned the audience to the late 1970s; well-structured melodic songs reminiscent of Bert Bacharach, Elton John or Peter Allen. They're playing our song  premiered in Los Angeles in 1978 then went on to Broadway where it ran for 1,082 performances.
Although musically now a little dated, the show manages to remain fresh thanks to the strong comedic writing of Neil Simon.
The show, based on the real life relationship between Carol Bayer Sager and Marvin Hamlisch, opens with Vernon Gersch (Scott Irwin) meeting Sonia Walsh (Danielle Barnes) in Vernon's New York apartment.
Vernon is tinkering away at his piano when Sonia arrives for their first encounter. The two were thrust together by their agents but their talented collaboration ultimately becomes a romance. So begins this lighthearted and fun show with almost no surprises.
Danielle Barnes gives a gutsy performance and her rendition of "I still believe in love" is the highlight of the show. Scott Irwin, an accomplished performer, was a little flat in his performance and I found their stage relationship unconvincing. Interestingly, they are a real life couple off stage.
Overall, this was an entertaining night at the theatre. Audiences looking for a repeat of the 1980 Australian production starring Jacki Weaver and John Waters would have been disappointed. This production has been stripped almost bare for regional touring and  played only two shows at the Theatre Royal.
But if a light and good-hearted evening is what you desire They're playing our song will most likely fit the bill.
The next stop on the tour is the Sutherland Entertainment Centre, Sutherland on Friday May 10 at 8pm. For more information or call 02 9521 8888.