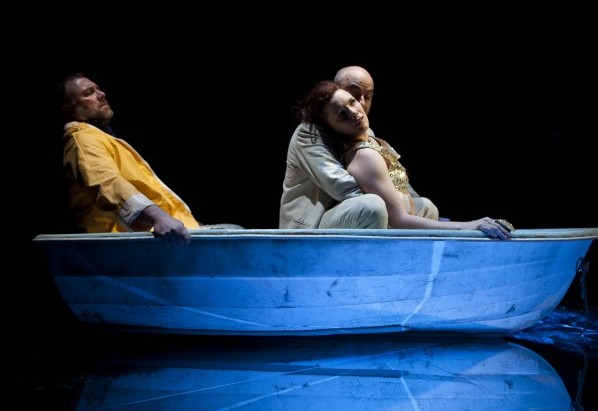 Eva (Meredith Penman) washes up on the shore of an Australian seaside town, missing a finger and her memory. She is carried to safety in the open arms of Bob (Iain Sinclair), a benevolent Aussie bloke. Bob offers Eva dry clothes, a hot cuppa and a safe place to stay.
Imagine if all migrants who sought sanctuary in Australia were met with such kindness and compassion?
The mystery of Eva's past is the subject of The Sea Project, the latest play in the Griffin Independent Season.
Written by Elise Hearst and directed by Paige Rattray, the production depicts Eva's struggle to uncover the horrors of her history, whilst negotiating a new life in Australia.
Suitcases and shoes wash up on the shore, collected by beach bum teenager Samuel (Travis Cardona). Like the appearance of these personal relics, Heart's careful writing releases details of Eva's past in a measured trickle.
What could be a simple, oft-told tale of belonging and memory loss is punctuated by fine performances from Meredith Penman as bright-spark Eva, and Iain Sinclair's laconic Bob. The arrival of Maciek (Justin Cotta), a crafty yet charming Eastern European gentleman, threatens Bob's alpha-male supremacy and leads to some wildly comic scenes.
The set is sparsely furnished with a kitchen table, hand-crafted by carpenter Bob himself, and a boat which slips onto the stage. The mirrored tiled floor, designed by David Fleischer, brings to mind recent Sydney main stage productions but is still used to great effect with Ross Graham's fluid and immersive lighting.
The live presence of guitarist Tom Hogan brings a buoyancy and bravado to the stage and captures the theatrics of Eva's musical past.
The Sea Project is a story of great timelessness and timeliness. It summons the experience of WWII European migrants as well as those who arrive by boat in Australia today.
The Sea Project plays at the SBW Stables Theatre until September 29.