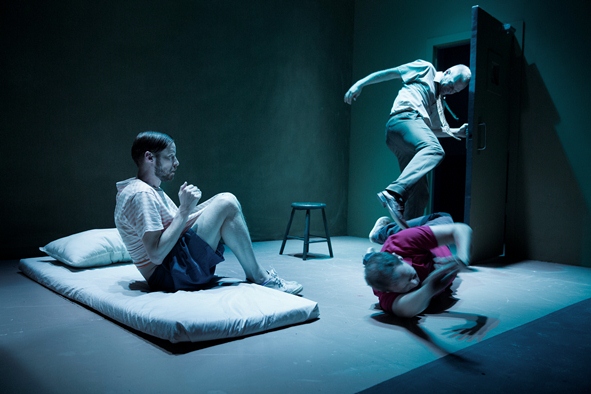 Katurian is a writer with little success but great self belief. He is the Grimm Brothers incarnate, spinning twisted tales about secluded houses in the woods and little girls swallowing razor blades.
But the strangest story of all is the one in which Katurian finds himself ensnared.
Dragged into police custody, Katurian is questioned about the murders of three children which seem to draw inspiration from his stories. If imitation is the sincerest form of flattery, Katurian should be chuffed by the gruesome corpses that lie in his wake.
The Pillowman, the latest production at the New Theatre, is the brainchild of writer Martin McDonagh who brought us the deliciously macabre films In Bruges and Seven Psychopaths.
This Luke Rogers production is manically funny with plenty of twists.
Oliver Wenn is a terrific storyteller in his role as Katurian, and biting humour is extracted from the good cop, bad cop combo of detective Tupolski (Peter McAllum) and irate officer Ariel (Jeremy Waters).
Michael Howlett gives a fine performance as Katurian's intellectually disabled brother Michal who is also detained in police custody. Unlike Katurian, Michal seems at ease in this nihilistic nightmare, more perturbed by his itchy backside than the imminent execution they face.
At first glance, Loren Elstein's set is bland but functional: a police room furnished with a desk, filing cabinet and dreary painted walls. But as Katurian's grisly past is slowly untangled, the bowels of the stage open up, revealing a cavernous room behind a screen.
In this sinister, sunken space we witness Katurian's stories re-enacted on stage. These re-enactments play out like contrived pantomimes and many moments fall flat or drag on. And while the divided set is certainly intriguing, its execution feels hokey, detracting from the power of the production.
Another minor quibble: when Katurian emerges, beaten and broken after a session of police interrogation (read: police brutality), our minds should linger on his horrific injuries. Unfortunately, the use of unconvincing fake blood makes Katurian resemble a victim of a leaking red texta pen rather than a violent beating.
Despite these shortcomings, the finely crafted plot and wicked humour of The Pillowman is well worth the visit to the New Theatre. Just don't bring your children along for the ride.
The Pillowman is at the New Theatre in Newtown until April 13. Bookings: newtheatre.org.au or 1300 347 205.