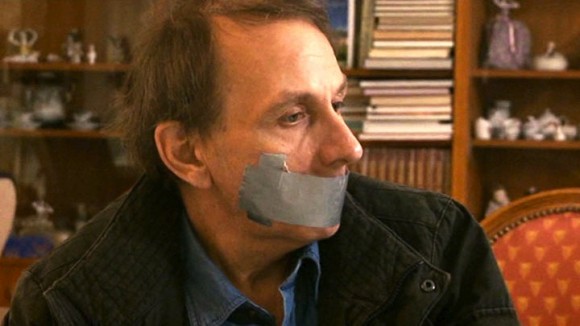 Michel Houellebecq, the best-selling author and enfant terrible of French literature, vanished during his European book tour in 2011. His disappearance sparked wild rumours of kidnapping, suicide and even the involvement of Al-Qaeda.
Writer-director Guillaume Nicloux has reimagined the events surrounding this vanishing act in the bizarre and captivating comedy The Kidnapping of Michel Houellebecq, which screened at the Sydney Film Festival.
The slow-paced opening scenes acquaint us with Houellebecq (who plays himself in the film), a frail malcontent who wanders around Paris with a cigarette glued to his lips, and when possible, a glass of wine within arm's reach.
His cerebral discussions with friends about Mozart, literature and design are rudely interrupted when he is snatched from his home by three brothers: ringleader Luc (Luc Schwarz), bodybuilder Maxime (Maxime Lefrancois) and MMA fighter Mathieu (Mathieu Nicourt).
Houellebecq is transported in a human-sized box and held hostage at the thugs' remote family home. What unfolds is a surreal slice of life – think Samuel Beckett meets Christopher Guest – captured in a low-key, documentary style.
Despite the handcuffs and chains, it's a rather pleasant stay for Houellebecq. He is wined and dined, taught street fighting moves, and even treated to a visit from a female escort. He swaps stories with the brothers' elderly parents Dédé (André Suchotzky) and Ginette  (Ginette Suchotzky), who treat their hostage like a bed and breakfast guest.
What could become a claustrophobic chamber piece is kept light and playful through improvised dialogue and the reliance on unknown actors. The film's dry humour is balanced with philosophical musings on art, mortality and the homoerotic subtext of the Lord of the Rings trilogy.
"Thank you for making my captivity enjoyable," Houellebecq says with a smile as the film meanders towards its close. However pointless it may be, Houellebecq enjoys his time as a hostage, and it is likewise a pleasure to spend 93 minutes in his company.
Year: 

2014 

Classification: 18+

Director: Guillaume Nicloux 

Country: France 

Screenwriter: 

Guillaume Nicloux 

Producer: 

Marco Cherqui, Sylvie Pialat 

Cinematographer: Christophe Offenstein
Editor: Guy Lecorne
Cast: Michel Houllebecq, Luc Schwarz, Mathieu Nicourt