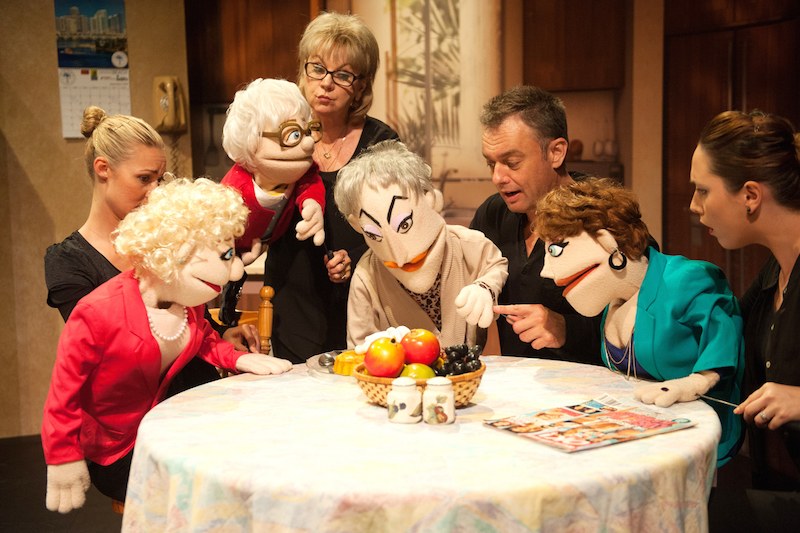 With this warm and funny hand-puppet production, Thomas Duncan-Watt and Jonathan Worsley have created a show that will delight even the most discerning fan of the great 1980s hit sitcom, The Golden Girls.
It was just like the old days with anticipation rising as soon as the audience heard those four familiar notes that always heralded the opening credits of the sitcom. On stage were the four mature ladies, sitting round a table in a Miami kitchen eating cheesecake and talking about sex, relationships and times past.
Thank you for being a friend, at the Glen Street Theatre in Belrose earlier this month, was pure Golden Girls from the tacky bamboo furniture of the living room to the copper fish mould on the kitchen wall. It's a nostalgic feast for the eyes.
The show itself is a melange of many Golden Girls episodes and touches on social issues such as friendship, marriage equality, body image and sex at a mature age, with humour – and hand-puppets. The story arc is entertaining, even if avid fans would recognise the original episodes quickly. That's not necessarily a bad thing.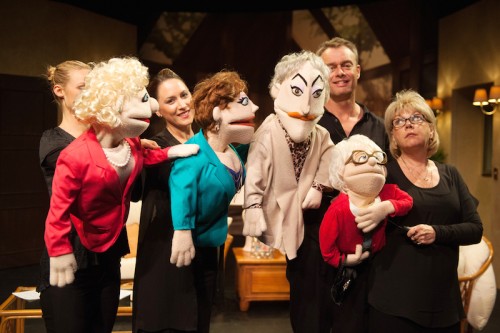 However, at times the stringing together of the episodes was fragmented and clunky, and the transitions from scene to scene are sometimes rapid and disconnected without resolution.
The four ladies were played with precision: Julia Dray's Blanche is a stand out. Her dry southern accent, the trademark glide and dramatic air that is Blanche Devereux are fantastic. A particular highlight is the delivery of the classic line, "Stunned, I'm simply Stunned, Stunned is the only word I can use to describe how, Stunned I am". Rue McClanahan herself would have been impressed.
Darren Mapes is also excellent as Dorothy. It's a hard role to play but the deep voice and sarcastic humour is convincing, helped somewhat by the spot on imitations of Bea Arthur facial expressions. Meredith O'Reilly plays Rose competently but tends to rely too much on her own acting and less on her artistry of the hand-puppet.
And then there's Sophia, probably the most memorable character of the TV series. Donna Lee's portrayal delivers on those lightning-fast witty quips, the childlike demeanour and her worldly if cynical wisdom.
Nigel Turner-Carroll plays all the supporting characters and love interests convincingly.
Between scenes 1980s ads, like PK chewing gum and Decore shampoo, add to the nostalgia. The show does need a little polish and at times the updated pop culture references fall flat.
That said, Thank you for being a friend is still great sentimentally soothing entertainment. The four ladies were great in the 1980s but even today they are still your good friends.
Thank you for being a friend is touring the east coast in October:
Brisbane – QPAC,  Oct 6 – 17
Tamworth – Capital Theatre, Oct 20
Port Macquarie – Glasshouse, Oct 22-24
Penrith – Joan Sutherland PAC, Oct 30-31
Canberra – Canberra Theatre Centre, Nov 6-7