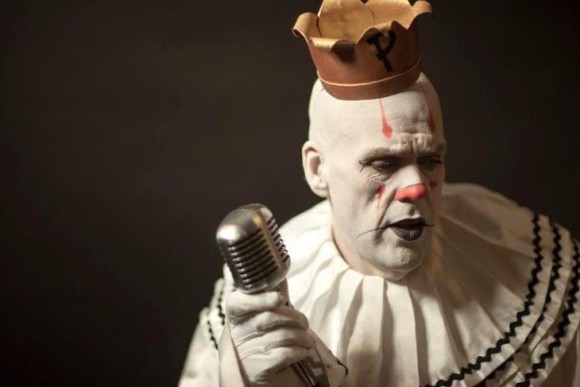 Most people didn't notice him walk from the side of the stage to the back of the room, despite the fact he is seven feet tall, painted up in garish face paint and wearing a clown suit.
Nor did most, their eyes fixed on the empty stage, expect him to emerge from amongst them.
But from the minute Puddles made his appearance, the room was no longer a theatre with audience and performer clearly delineated. Puddles didn't allow it.
Not only did he ignore seating boundaries as he climbed over chairs to interact with the audience and select unwitting members to drag on the stage, he also did not allow for the traditional expectations that he performs and the audience passively watches.
I'm not usually a fan of audience participation as it is generally awkward and irritating. But Puddles does it in a way that turns the performance into a party with everyone getting into the spirit.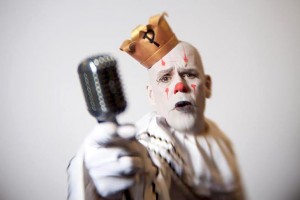 And the man from Atlanta can certainly sing up a storm.
His repertoire covers a wide range of musical styles from Elvis Presley to Leonard Cohen to Sia, from Abba's "Dancing Queen" to "Halleluiah", my personal favourite.
But the songs are there as the thread that unites this "sad clown" with his audience rather than as the primary focus of the show. It's uncanny how, without speaking a single word, Puddles manages to forge such strong connections with his audience.
And it's interesting that while the promo material promises a night with "a melancholy vagabond of rock cabaret", the audience spends most of the show laughing.
With him, not at him.
My expectations were high knowing that Lorde had singled out his cover version of "Royals" as her favourite rendition of the song and that it had attracted 10 million views on YouTube.
I also knew Puddles Pity Party inspired standing ovations at both the Edinburgh Fringe and the Just for Laughs festival in Montreal.
But this does not prepare you for the man's remarkable talent: the ability to connect with his audience and to bring out the performer in each of them.
Don't miss this unique show. There are many surprises but I won't spoil it by revealing them.
Sydneysiders can catch the party tonight, Saturday (March 21) and Sunday (March 22) at 7.30m, Giant Dwarf, 199 Cleveland Street, Redfern. Book on giantdwarf.com.au
Melbourne audiences can join the party at The HiFi, 125 Swanson Street, from March 26 to April 12. Book on comedyfestival.com.au or 1300 660 013.